Angelina Jolie's Salt Is Becoming A TV Show, Get The Details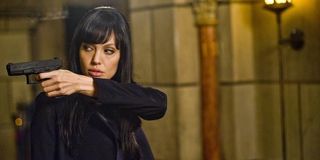 The big trend in showbiz nowadays seems to be taking the old and making it new again, whether by adapting movie plots for television or bringing television premises to movies or rebooting past franchises, etc. The latest movie-to-television adaptation will be of Angelina Jolie's 2010 spy thriller Salt, and while Salt is not the only major Hollywood motion picture to be coming to the small screen, the adaptation does have a rather unique distinction: Sony Pictures Entertainment is planning to bring Salt to television in Europe rather than the United States.
Sony Pictures Entertainment executive Diego Suarez has been tasked with increasing the amount of programming outside of the U.S. Considering that Salt was a huge hit overseas, pulling in $175 million, this adaptation may be the perfect project for Sony to gain a significant foothold in European television markets.
Of course, if the Salt television series holds true to the film's premise, the plot will have an awful lot to do with American agencies. The 2010 thriller followed CIA Agent Evelyn Salt (Angelina Jolie) after her release from a North Korean prison. Upon returning home, she is accused of being a Russian sleeper spy planning to contribute to the downfall of the United States. The film is ambiguous about Salt's motivations through a decent chunk of the film, but she is ultimately revealed to be a loyal agent.
News of Salt becoming the latest movie to be brought to television is somewhat curious. A possible sequel has been in the works since shortly after the original premiere back in 2010. Forward progress toward production has been slow over the years, but the second installment has never been ruled out. Only time will tell if there will be a Salt television series as well as a big screen Salt sequel available to audiences at the same time. The first movie did end on a cliffhanger as - spoilers, I guess - Evelyn Salt decided that she deserved revenge for being wrongfully accused of betraying her country, so there is definitely room for the story to move forward.
As the television adaptation is still in the very early stages of development, according to ScreenDaily, there's no news yet of casting. We can almost certainly count on a movie star like Angelina Jolie not signing on, so it's entirely possible that the new incarnation of Salt could be played by a man or a woman of any level of fame. The film was originally written with the lead role intended for Tom Cruise as Edwin Salt; the TV series could easily go either way with casting its star. An actor of Jolie's caliber, at least an American one, may be difficult to nab for the show, but I'm hoping that Sony Pictures Entertainment sticks with a female protagonist for Salt. Jolie proved that the premise can be done and done well with a woman in the lead role, and a bold departure from the traditional male-led spy thriller may be just the thing for Sony to find success in Europe.
Resident of One Chicago, Bachelor Nation, and Cleveland. Has opinions about crossovers, Star Wars, and superheroes. Will not time travel.
Your Daily Blend of Entertainment News
Thank you for signing up to CinemaBlend. You will receive a verification email shortly.
There was a problem. Please refresh the page and try again.