Arrested Development Season 4 Review: Same Bluths, Same Humor, Ambitious Storytelling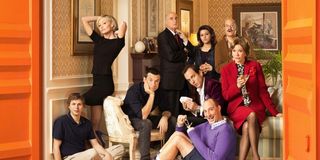 This review is relatively spoiler-free, with some vague plot references, which are confined to one specified one paragraph. For more detailed, spoiler-filled episode reactions, read our recaps here.
In bringing back Arrested Development for a fourth season after seven years off the air, series creator Mitch Hurwitz might have written the new season in similar fashion to the original series, with most of the character stories intertwined and all set in the present day, if not set immediately after the third season's events. However, given the limited availability of the cast, that likely wasn't an option. Or at the very least, it would have been tricky trying to write and shoot around the actors' schedules. Which leads us to the alternative, which was to essentially write one giant episode, then reveal it to us from nine different perspectives over fifteen installments. It's an ambitious style of story telling, but if Hurwitz and Troy Miller were aiming to get us caught up on what's been going on with the Bluths while also having to work around the actors schedules, this would be the way to go about it, if only they were imaginative enough to execute it. And they were, because they did.
Arrested Development Season 4 wasn't the same series we know and love. It was something different - more than a reunion show but not quite the serialized bit of comedic, episodic story-telling we were familiar with from the series' first three seasons. Those hoping for more of the same and nothing else may have been disappointed. But after binge-watching the fifteen new episodes posted on Netflix (opens in new tab) this weekend, I found Arrested Development's new season to be a refreshing revival of a classic comedy, as well as an impressive bit of storytelling, which makes good use of its ensemble cast, but does fall short in bringing that cast together. As mentioned, cast availability may have been an issue there, and while the season does an admirable job of working around it, the season does suffer a bit from the lack of Bluth unity, chair-photos excluded.
(Vague spoilers in this paragraph) The series begins by catching us up on some of what's been going on with Michael Bluth (Jason Bateman) since the events at the end of Season 3. That includes a lot of failure as Michael hits bottom with a failed real estate venture, then hits an even lower bottom when his own son doesn't want to share his dorm room with him any longer. Michael isn't the only character with challenges to overcome. George Sr.'s (Jeffrey Tambor) trying to build a wall, Lucille (Jessica Walter) has those pesky legal troubles to deal with, Tobias' (David Cross) efforts to be a better actor lead him to his own legal issues, Lindsay (Portia de Rossi) attempts to rediscover herself with a new man, Gob (Will Arnett) is attempting to restart his magic career, Buster's (Tony Hale) a monster and George Michael (Michael Cera) and Maeby (Alia Shawkat) are both battling typical post-adolescent challenges. For George Michael, that's developing the next groundbreaking software Zuckerberg-style. For Maeby, it's a re-attempt to finish high school. Ok, maybe they're not so typical, but "typical" is relative for Bluths (and Funkes). And Ron Howard returns to his role as the narrator, in addition to playing a version of himself on screen. There are also a lot of birds, some blue paint, some glitter, and an odd combination of mustard and parmesan, which likely goes down easier when you factor Martin Mull and a game of Clue into the equation. Joining the returning cast, guest stars - including Maria Bamford, Kristen Wiig, Seth Rogen, Isla Fisher, Chris Diamantopoulos, John Slattery, Mary Lynn Rajskub and Terry Crews, among others - also help to elevate the comedy as well as the story.
It takes to about the fifth episode ("A New Start") for the season to really begin to take shape, as we start to see the format that's being executed in the way Tobias' story overlaps with Lindsays, and actually serves to compliment her episode in addition to carrying the story further. The structure takes a little getting used to, but the humor should be familiar to fans of the series, with repeated callbacks to past jokes, added to some new jokes (…and that way, you have it!).
I'll admit, I got lost in the timeline on more than one occasion. An issue I expect re-watches will eventually resolve. As each episode takes us back and then inches - and occasionally jerks - forward between Season 3 and now, there are probably more than enough connectors from one episode to the next to draw an elaborate but workable chart that shows what's happening at what point to which characters. I'm anticipating the infographic that does actually do all of that. In the meantime, the timeline wasn't so confusing that the episodes were hard to follow. When it comes down to it, what matters in the moment is happening in the foreground, and anything going on in the background will likely make more sense as each episode fills in another piece of the picture. It's with that in mind that I want to commend Hurwitz and the other writers for what they did with this season. It's not the first story that's been told in pieces this way, but it may be the first TV series that does it so successfully over the span of a season. Netflix's all-at-once approach to debuting seasons likely contributed to the success of this format for Arrested Development, as viewers can watch the episodes back-to-back and really appreciate those connections, when they catch them.
Coming off the fifteen episodes of Arrested Developments, I'm both impressed and satisfied with what Season 4 had to offer, especially given the anticipation for this series' return, which had our expectations set high. But I am also curious to see how the season holds up over time, once the amazement and appreciation for what the writers have done with this fourth season wears off a bit. Will Season 4 be as re-watchable and enjoyable over time as the first three seasons were? Time will tell.
And as entertaining as Season 4 is, I still want to see an Arrested Development that puts the Bluths back together, in the present day in a more linear story. Maybe it's greedy to make such a demand so soon after Season 4 has debuted, but the season plays out as part of something bigger, serving as both an epilogue to Season 3 and the set-up for whatever's next, whether it's another season or a movie. On the whole, Season 4 is funny, entertaining and still as unique as it ever was in all of its charm and ridiculousness, but its conclusion is so open-ended that, despite the binge, I'm left wanting more. But that's not really a bad thing. Now we just have to hope that the movie or another season gets made.
Kelly joined CinemaBlend as a freelance TV news writer in 2006 and went on to serve as the site's TV Editor before moving over to other roles on the site. At present, she's an Assistant Managing Editor who spends much of her time brainstorming and editing feature content on the site.
Your Daily Blend of Entertainment News
Thank you for signing up to CinemaBlend. You will receive a verification email shortly.
There was a problem. Please refresh the page and try again.