Arrow DCU Tie-Ins And Easter Eggs: Season 2, Episode 6 - Keep Your Enemies Closer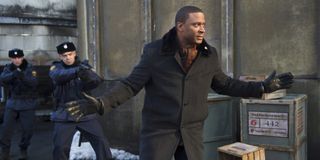 There's barely been enough time to properly process the major name-drops during last week's run in with the "League of Assassins" with the mysterious (and dead) Al-Owal mentioning both Ra's al Ghul and his daughter Talia in his attempt to (re)capture the Canary. And yet, "Keep Your Enemies Closer" possibly bested the previous episode of Arrow when it comes to DCU easter eggs. Oh, it was also another damn solid installment of The CW superhero series.
The shadowy figures from Nanda Parbat took a backseat this week but Sara Lance's journey continued to be the driving force in the flashbacks with Jimmy-Jean Louis' The Captain and Dylan Neal's Dr. Ivo using her to get to Oliver. The youngest Lance's year aboard the Amazo has really changed her and this is all before she even enlists in the League. Well, she does have some compassion left, saving Oliver's life so he can lead them to the warped corpses and a Japanese submarine that was carrying some kind of super-serum. I'd wager that both Oliver and Sara end up injected with a little of that 'miracle' potion. And I couldn't have been the only one whose ears pricked up at the mention of Tahiti. Coincidence? Or pot shot at their Marvel rivals? I wonder when "You Keep Your Enemies Closer" was shot?
While Oliver was unknowingly selling-out his friends, Shado is doing her best to tend to Slade's burns and keep him warm. I always thought Slade was jealous of Shado not Oliver. Who knew? What we are seeing though, is the beginning of his painful transformation into Deathstroke and perhaps he'll also get a taste of the serum. Hell, everyone on or around Lian Yu might as well have a sip. Do you think Ollie's next cell neighbor was also the subject of some of Ivo's experiments? Anatoli Knyazev is better known as KGBeast after all and seems to be a pretty, uh, powerful person in Russia when Team Arrow stops by Moscow to rescue Lyla from a nightmarish gulag. By the way, Lyla isn't just Diggle's ex-army buddy but also his ex-wife, one intent on helping her ex-husband get his revenge.
Guess who also happened to be locked up in Koshmar? It looks like Floyd 'Deadshot' Lawton has been busy chilling out in Moscow while Diggle has been in Starling City steaming over the assassin who murdered his brother. But before getting to the great odd couple prison break, it's worth mentioning that the A.R.G.U.S. Agent who sent Dig on the mission in the first place was none other than Amanda Waller, played by Cynthia Addai-Robinson, a co-star of Manu Bennett (Slade) on Starz' Spartacus. A popular DC villain (or anti-hero, depending on the issue), Waller often has disagreements with another gentleman who prefers green but it's too soon to tell whether she'll be an ally or enemy of the Emerald Archer.
Not that it matters because Arrow has much bigger problems to worry about with the introduction of H.I.V.E.. After Deadshot delivered the great line about how he never misses and Dig's brother was the real target, the latter turns to 'Bing' to get some more information on H.I.V.E. and probably would have had more luck with google or wiki. Sorry, what ever he found out, the news can't be good cause the acronym stands for the 'Hierarchy of International Vengeance and Eliminations.' Hey, there's a chance that it's the 'Holistic Integration for Viral Equality,' as is the case in the New 52. I doubt it. Speaking of Marvel's lucky number, Channel 52 was back at it this week, once again informing us of a possible cataclysmic event that could occur at Central City's S.T.A.R. Labs.
Arrow returns with Episode 7, "State v. Queen," Wednesday at 8 p.m. ET on The CW. Created by Marc Guggenheim, Andrew Kreisberg and Greg Berlanti, the DC Comics inspired series stars Stephen Amell, Katie Cassidy, David Ramsey, Emily Bett Rickards, Willa Holland, Colton Haynes, Manu Bennett, Paul Blackthorne and Susanna Thompson.
Your Daily Blend of Entertainment News