Arrow DCU Tie-Ins And Easter Eggs: Season 2, Episode 5 - League Of Assassins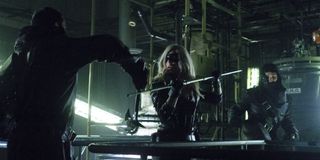 Amidst a flurry of small-screen superhero news, from The CW adding Hourman to their roster, to Marvel and Netflix announcing an epic partnership, Arrow continues to provide the model for a successful comic-book inspired series. Sorry, Agents of S.H.I.E.L.D.. The Black Canary-centric installment didn't directly tease the upcoming introduction of powers into the more realistic setting like last week's nod to Flash with another TV report on S.T.A.R. Labs but it did namecheck two of Batman's biggest (big-screen) adversaries. With a title like "League of Assassins", the Ra's al Ghul reference shouldn't have come as much of a surprise, however, bringing his daughter Talia into play was a little unexpected. And a more than welcome surprise. I wonder what gorgeous actress the network will cast for that juicy role?
Of course, Ra's and the League (not the FXX comedy, but that would be awesome) were already referenced in Arrow during "Broken Dolls" when the Canary reappeared to help stop The Dollmaker but this week moved the assassins to the A-story with Homeland's David Negahban guest starring as Al-Owal. Owal was created specifically for the show but is tied back to the DCU by having him be the warrior who trained Malcolm Merlyn while he was off grieving the death of his wife Nanda Parbat as explained in "Dead to Rights." And it seems Sara Lance, after getting sucked out of the Queen's Gambit and spending some time on the Amazo (more on that in a second), also visited the home of the League of Shadows. Oh, that's just another name for the band of deadly warriors, one you might recall from Batman Begins if you're 'mindful of your surroundings.'
I liked that the writers dropped the direct quote from Christopher Nolan's first Batman film because Arrow is so obviously inspired by the director's trilogy. It makes perfect sense to stick close to the 'source' even though that Dark Knight universe is technically dead with the arrival of Batfleck. It's not like the small-screen incarnations of Green Arrow or Flash are ever going to crossover with the big-screen DCU anyway, so might as well continue to follow Nolan's path. On second thought, the upcoming introduction of superpowers into the otherwise gritty and real world is going to shake things up; maybe it's time for the show to stray from the Bat-blueprint? Not necessarily because I'm starting to think that Arrow has had powers all along. The flashbacks in "League of Assassins" not only showed us how Sara survived the ordeal, was caged, and began her transition into the Canary, but also introduced Dylan Neal's Dr. Anthony Ivo and the possibility that Ollie (and Sara) have been given some kind of 'humanity saving' super serum?
Is that a stretch? Ivo is clearly testing something on his prisoners aboard the Amazo (is he also there?), perhaps this connects to the end of last week and whatever Sebastian 'Brother' Blood injected into the Mayor in hopes of creating an 'army of strength.' I would guess that both Oliver and Sara were injected while aboard the ship as well as that mysterious Russian captive who tells the former about the Captain's tests designed to weed out the weak. That DCU connected Russian shows up in next week's episode, so his identity will soon become clear but don't click the link if you don't want to know. You know who else is on the Amazo? Slade. The number of possible super-human allies and/or enemies is growing fast! He doesn't get mentioned in "League of Assassins" but Sara does say how she saw Shado wearing the Hood. Is a dramatic rescue on the horizon?
Arrow returns with Episode 6, "Keep Your Enemies Closer," Wednesday at 8 p.m. ET on The CW. Created by Marc Guggenheim, Andrew Kreisberg and Greg Berlanti, the DC Comics inspired series stars Stephen Amell, Katie Cassidy, David Ramsey, Emily Bett Rickards, Willa Holland, Colton Haynes, Manu Bennett, Paul Blackthorne and Susanna Thompson.
Your Daily Blend of Entertainment News
Thank you for signing up to CinemaBlend. You will receive a verification email shortly.
There was a problem. Please refresh the page and try again.