Arrow Season 3, Episode 22 Watch: DCU Connections And Easter Eggs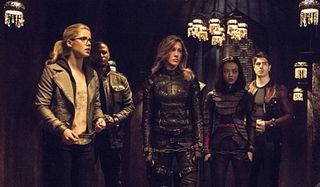 Oh my god, they're all dead! For sure. One hundred percent. No way that this is some trick or a way to get maximum mileage out of the Lazarus Pit. Nope, the entire supporting cast of Arrow got wiped out in a single episode. And it wasn't even the season finale. Oliver - sorry - "Al Sah-him" would be pretty lonely next week if it wasn't for his new bride. As you can tell, there was a lot going on in "This Is Your Sword," including several sneaky and not so sneaky DCU references...
Monument Point
Before we get to the wedding with a body count to rival Game of Thrones - speaking of, Rila Fukushima (Tatsu) made an appearance on the HBO fantasy two weeks ago - let's start in Monument Point. Roy has wisely picked one of the lesser known DC cities to hide out in and I wonder if he chose the alias Jason as a nod to his current partner in the New 52. Thea finds the 'dead man' working as a mechanic and brings him his signature red suit so he can resume fighting crime as Arsenal, but he thinks she should keep it. So do I.
Hong Kong
"This Is Your Sword" opened in the middle of the Alpha and Omega outbreak in Hong Kong, with Oliver and the Yamishiros trying to save the latter's infected son. Like I said last week, the scenes with Akio might play better if Arrow didn't already tell us he dies, but they were probably trying to avoid it becoming a plot point fit for those 'shocking moments' lists.
The rest of the action in the flashbacks was considerably better than it has been with Oliver and Maseo going on a rampage to find a cure. Maseo even tells Ollie to bring out the killer that A.R.G.U.S. head Amanda Waller saw in him. Wait. Is she 'off the table' too? Dammit, WB. Anyway, our heroes fight their way through a bunch of soldiers - we'll pretend they're called the Creature Commandos - and take General Shrieve back to treat the dying Akio. Too bad it was one of those "the bad guy wants to get caught" situations, and there is no cure. Oh no! But what does that mean for our imprisoned and exposed supporting characters?
Nanda Parbat
Before the Arrow-less Team Arrow took off for Nanda Parbat, Felicity, Dig and Canary (complete with that sweet new cry) took on a bunch of nobodies in Starling, and John was clearly having some anger management issues. That will happen when your best-friend kidnaps your wife. There's also a quick scene at Palmer Technologies where Ray signs the company over to Felicity as well as hints at a "little idea" he had for the A.T.O.M. suit, which probably saw more action in "This Is Your Sword" than ever before. It looked pretty good. A little big for my taste.
It was also hard for the A.T.O.M. versus the plane to compete with finally seeing Katana kick ass in costume. Sure, seeing her kill her former husband was a bit bizarre, but the fight itself looked great. Don't get your hopes up for much more Tatsu though, 'cause Katana is also a part of the big-screen Suicide Squad. It was a nice touch having Merlyn fly the Team to the home of the League of Assassins from Ferris Air. In Nanda Parbat, Ra's al Ghul continues to treat his daughter like crap, and I believe one of their exchanges contains the first time Arrow has mentioned the last name Raatko. It was also fun for the show to have Ra's call Oliver Ibn al Ghul, or 'Son of the Demon,' as well as make a big deal about the newlyweds having a son. Because, well, he already has one. Not to mention Ibn al Xu'ffasch.

Arrow continues with the third season finale, "My Name Is Oliver Queen," next Wednesday at 8:00 p.m. ET on The CW. Created by Marc Guggenheim, Andrew Kreisberg and Greg Berlanti, the DC Comics inspired series stars Stephen Amell, Katie Cassidy, David Ramsey, Emily Bett Rickards, Willa Holland, Paul Blackthorne and John Barrowman.
Your Daily Blend of Entertainment News
Thank you for signing up to CinemaBlend. You will receive a verification email shortly.
There was a problem. Please refresh the page and try again.