Game Of Thrones Season 5, Episode 3 Watch: What's In A Name?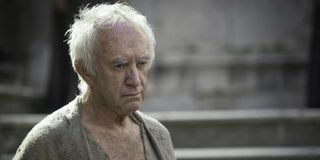 "Sounds ridiculous doesn't it? Like Lord Duckling or King Turtle. It's meant to. We're often stuck with the names our enemies give to us."
It's interesting that this week's episode of Game of Thrones used a name (or, well, a title) for the title, since "High Sparrow" was all about shedding, or the the inability to shed, one's identity. The relatively quiet third installment of the HBO fantasy's fifth season continued to build on the storylines set-up in "The Wars to Come" and "The House of Black and White", while many of the major characters were forced to question who they are, who they were and who they want to be. Of course, we all know by now that planning too far in the future is silly, since the likelihood of surviving a George R.R. Martin (and, the even bloodthirstier Benioff and Weiss) story is slim to none. Although there was a wedding without a single casualty this week. Some would consider that a dull affair.
"Hypocrisy is a boil. Lancing a boil is never pleasant."
Tommen and Margaery managed to get hitched without so much as a single drop of blood being shed, but that doesn't mean the after effects won't be violent. It took Margaery about five minutes after the bedding to start turning Tommen against his mother, and now that she's the Queen, she also doesn't seem to mind making their feud public. How many backhands did Margaery slip into the conversation with Cersei? Enough to provoke the Queen Mother into seeking out an alliance with the High Sparrow. Something tells me his character is not as avuncular as he seems and maybe Cersei shouldn't be throwing stones. Oh, and how about Qyburn's 'friend?' His Frankenstein experiments seem to be going well.
"It's good luck to rub a dwarf's head."
On the other side of the Narrow Sea, the shortest Lannister sibling is doing his best to leave the family name behind but Tyrion and Varys happen to stumble across the exiled Ser Jorah Mormont in a brothel in Volantis. Of all the gin joints, eh? I guess Tyrion should have listened to Varys and his perfectly good face when he suggested staying inside the wheelhouse as to avoid detection. I'm surprised the 'just another drunken dwarf' plan didn't pan out. Before getting grabbed, the dynamic duo (who I'm sad to see separated) managed to take in a sermon from a slave-turned-Red Priestess whose spidey-sense seemed to tingle for Tyrion. And what's with the constant talk of greyscale this season? It's making me want to see these stonemen.
"A girl must become no one."
Arya's storyline was the most overtly about a character wrestling with identity, as the Stark sibling began her training with the Faceless Men. The first scene inside The House of Black and White was beautifully lit, with the show's signature reds and blues showcasing the set's various religious symbols. All the other religions - the Seven, the Drowned God, the Red God - are merely different faces of the one true god, the god of death. Arya is eager to learn but she must first shed her former life as 'Lady Stark of Winterfell' before she can do anything more than sweep the temple. She manages to throw all of her belongings away except Needle. She found a perfect rock hole to stow away that tiny piece of herself.
"The North remembers."
Even with the Bolton sigil hanging all over Winterfell (not to mention the flayed men), the castle still belongs to the Starks. That's why Sansa's choice is so brave. I'm a big fan of what they're doing with her character so far this season, making her less of a bystander, to use Littlefinger's word, and more of a player. But how long before the new Lord's sadistic side shows itself? Or should we be more worried about his jealous girlfriend who was giving Sansa the stink-eye? One thing's for sure, Reek does not want to be recognized by the potential 'Wardeness' of the North. I hope she's not in over her head with Roose and Ramsay. At least, Brienne and Pod are on their way there. As is Stannis. It's good timing, considering Brienne just (re-)expressed her desire for vengeance.
"Winter is coming."
Jon is having a great season so far as he becomes more and more his father's son. It's no coincidence that the Janos Slynt beheading scene came in the same episode that Stannis called the new Lord Commander as stubborn as Ned Stark. I'm sure we all remember Ned beheading the Night's Watch deserter in the very first installment of Game of Thrones. The nasty-but-necessary deed has become a sort of litmus test for honorable leaders. It seems to have impressed Stannis who, according to Davos, was already rather taken with Jon despite the latter's refusal to join their cause. What is Jon going to do when they depart for Winterfell in a fortnight? What if the wildlings rise up once the Baratheon soldiers have gone? Not to mention the half of the Night's Watch who didn't vote for him as Lord Commander? Or will Slynt's head be enough to keep everyone in line? And where are the White Walkers?
Game of Thrones continues with Episode 4, "The Sons of the Harpy," next Sunday at 9:00 p.m. ET on HBO. Based on the Song of Ice and Fire novels by George R.R. Martin, the series was adapted for TV by David Benioff and D.B. Weiss and stars Peter Dinklage, Kit Harington, Emilia Clarke, Lena Headey and Nikolaj Coster-Waldau.
Your Daily Blend of Entertainment News
Your Daily Blend of Entertainment News
Thank you for signing up to CinemaBlend. You will receive a verification email shortly.
There was a problem. Please refresh the page and try again.