Arrow Season 3, Episode 7 Watch: DCU Connections And Easter Eggs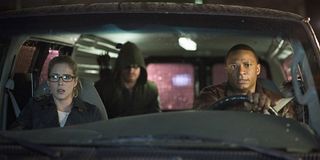 When it comes to easter eggs, Arrow may never be able to top last week's use of the boxing glove. The episode as a whole could have been better but the reference to the DC superhero's most famous trick arrow was perfectly executed. This week didn't seem to stand a chance. No nod(s) to the DCU in "Draw Back Your Bow" could possibly compare, right? Well, not exactly. Arrow came through with a solid installment overflowing with easter eggs and exciting reveals...
Ever since the series began, Arrow's flashbacks have always been hit or miss, but this week managed to be pretty satisfying thanks to Rila Fukushima. She was extremely badass in The Wolverine, and "Draw Back Your Bow" finally let her cut loose as Tatsu Yamashiro a.k.a. Katana. I've been waiting to use that name until Arrow showed the other side of Maseo's wife. Katana had to flash some steel this week because her husband went M.I.A. while on a mission for A.R.G.U.S. Turns out that China White and the Triad did kill three agents, but Maseo was fine. Agent Waller (aka Mockingbird) had him working away from the action. I still have no idea who this Li Kuan Hui person is. If I had to guess, I'd say it's an old friend. It was also a nice touch having Ollie and Tatsu call each other Outsiders.
Back in the present, Felicity is asked to accompany Ray Palmer on a business dinner, and all it takes is an expensive Couture dress (and a ten million dollar necklace) for her to say yes. Of course, the platonic evening out interferes with her gig moonlighting as the Oracle, but the rest of the team will have to make do without her. Easier for some than others. Her former boss had his chance, and now it's Ray's turn on the salmon ladder. If I'm not mistaken, the business dinner was with a Mr. Gardner (I'm sure there's no relation) to discuss mining for a dwarf star alloy? I wonder what that's for. Ray also decided to alter the Star City skyline by changing Queen Consolidated to Palmer Technologies, an announcement he made on Channel 52. And finally, how about that reveal of the Atom suit? Sorry, A.T.O.M. It looked pretty rad, even just as a hologram. Kind of like Iron Man's armour. I guess the shrinking (and growing) will be tech-based?
The episode opened with a Cupid origin story of sorts, showing the moment our villain-of-the-week became obsessed with the Arrow. During the siege, Oliver saved former SCPD Officer (and patient at St. Walker's) Carrie Cutter from one of the masked men on Mirakuru and she's been following him ever since, making appearances at all the crime scenes last week. Cupid finally makes her mark by killing Ted Grant's former partner outside Iron Heights, but Team Arrow mistakes the heart-shaped arrow head for a spade and that triggers Diggle's memories of the Royal Flush Gang. When our hooded heroes do catch up with the right killer, she makes short work of Arsenal before evading capture. For now. In the final showdown, Cupid's craziness gets the better of her and she's turned over to Suicide Squad. Like Lyla said, she can't be any nuttier than the other girl on the team. Oh, and who's that dude with the boomerang? He'll be back.
Catch Arrow next on Episode 8 of The Flash, "Flash Vs. Arrow," on Tuesday, December 2 at 8:00 p.m. ET on The CW. Created by Marc Guggenheim, Andrew Kreisberg and Greg Berlanti, the DC Comics inspired series stars Stephen Amell, Katie Cassidy, David Ramsey, Emily Bett Rickards, Willa Holland, Colton Haynes, Paul Blackthorne and John Barrowman.
Hit up the next page for a look at "Flash Vs. Arrow"...
Your Daily Blend of Entertainment News
Your Daily Blend of Entertainment News
Thank you for signing up to CinemaBlend. You will receive a verification email shortly.
There was a problem. Please refresh the page and try again.