Arrow Season 2 Finale - Unthinkable: 3 DCU Tie-Ins And Easter Eggs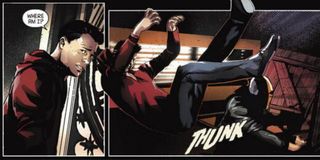 To top off a wonderful season full of fantastic fights, memorable characters and, of course, DCU references, Arrow did the "Unthinkable." The Season 2 finale not only featured two 'final' showdowns between our hero and big bad (as well as our first look at Flash) but also the return of pretty much everyone who has ever fought over the fate of Starling City. Okay, so that's a little bit of an exaggeration. Still, there were a quite a few familiar faces back to battle on the recently set ablaze "Streets Of Fire"...
3. Pre-Game
The events that take place on Lian Yu have been pretty thin the last few weeks because Arrow has been putting the pieces in place for the finale and "Unthinkable" did not disappoint. The episode easily contained the most engaging flashback sequences in some time, perhaps all season, with things finally coming to a head for Oliver and Slade.
The cross-cutting between the two final fights was really well done and, thanks to a little help from some falling debris, Oliver is able to win both. Anatoli proved to be a man of his word and the torpedo not only took down the Amazo for good but also allowed for our hero to gain the critical advantage over his mirakuru enhanced adversary. Cue the Arrow to the eye. Oh, and it also split up Sara and Oliver, with the former getting sucked out of the freighter just like she did when the Queen's Gambit went down. The events of the past might have found a new location after Oliver was rescued by a Mockingbird. That doesn't mean we're done with Purgatory just yet, as the island will now serve as a 'Super-Max' prison to house the Arrow's most dangerous foes. It's also nice to learn that Slade wasn't cured of his hatred. He made promises. I wonder if he still sees Shado?
2. Sideshow
There is so much going on in the second season finale that Team Arrow has to split up and fight on a few different fronts. Diggle goes on a side mission with his (ex)wife Layla after she makes quite the entrance. I guess that's it for the Clock Tower. Oh, well. Sara won't be needing it. Sorry, back to Dig's side mission to stop Amanda Waller's A.R.G.U.S. drone from destroying the entire city. She's just trying to ensure that the super soldiers are quarantined. I mean, they are clearly a threat to the world!
In order to convince Waller to call off her bomb, Dig breaks his best buddy Floyd Lawton out of his A.R.G.U.S. not-so-Super-max prison cell. Apparently, the didn't want to spring for the rest of the Suicide Squad. Oh, and it looks like Oliver and Dig can learn how to be dads together. Speaking of dads, Thea shot her biological father last week but it's no big deal cause Malcolm Merlyn doesn't roll without kevlar. In true 'psycho-villain' style, he's actually proud of his Speedy and warns her about Roy's extracurricular activities. The young sidekicks' reunion, which includes a quick Sin name-drop, doesn't last long with Thea apparently turning to the dark side.
1. Main Event
It's especially sad to see Thea dress in all black at episode's end because this week saw her now former beau finally get his mask. It looks pretty rad. He's also kept up to date on the status of the main event, things like Mayor Blood's death, thanks to Bethany Snow's reporting on Channel 52. Yep, chaos has spread all over the city. From Meltzer Ave to the Giordano Tunnel.
Easy Company was sent to the second location to stop the super-soldiers but it takes a crew of super-heroes with a cure from S.T.A.R. Labs to do that kind of work. I mean, obviously Roy is better trained than St. Rock. Sara calls in Nyssa and the League of Assassins to lend a hand and once again they drop the big guy's name. Ra's al Ghul. He's got to show up soon. And it's not like his daughter is a nobody. She quickly takes care of Isabel the Ravager during the raid on Queen Consolidated. But heroes don't kill. Even when the bad guy kills your mom. So Felicity and Oliver devise a plan to defeat Deathstroke without having to kill him. It involves a few tricks, one of them a bolo arrow. That's our hero. Oh, and the ending with Lance was super dumb. Right after they got me all excited with Sara passing the torch to Laurel. Oh well...
Arrow will be back for Season 3 next fall on The CW. Created by Marc Guggenheim, Andrew Kreisberg and Greg Berlanti, the DC Comics inspired series stars Stephen Amell, Katie Cassidy, David Ramsey, Emily Bett Rickards, Willa Holland, Colton Haynes, Manu Bennett, Paul Blackthorne and Susanna Thompson.
Your Daily Blend of Entertainment News