Arrow Season 3, Episode 9 Watch: DCU Connections And Easter Eggs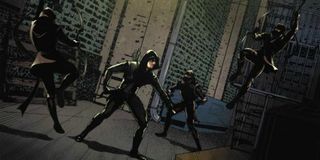 How can Arrow possibly follow "Flash vs. Arrow" and "The Brave and the Bold," last week's epic crossover event? Well, bringing in one of Batman's biggest bads doesn't hurt, especially since the superhero show has been teasing the DCU supervillain for over a season. Ra's al Ghul finally showed more than just his face for "The Climb," a family-oriented midseason finale fans won't soon forget. Happy Holidays!
The Lances
Since it's Christmas, Dinah, the Lance matriarch, decided to make the trip home to Starling City to see her family. Too bad her mother's intuition is so good that the second she mentions Sara (aka Ta-er al-Sahfer) in front of Laurel, the jig is up and the latter spills the beans about the former's death. The eldest Lance daughter also convinces her mom to continue keeping it a secret from Quentin because, uh, he's too weak to handle it or something. I'm sure he'll never find out. It was nice of Laurel to reassure her mother that Sara's death wouldn't go unavenged. Of course, Dinah probably thought her D.A. daughter would make the guilty suffer in a slightly different way than the new Canary has in mind.
The Yamashiros
The Yamashiros arguably have an even worse holiday (episode) than the Lances with Maseo's work for A.R.G.U.S. following him home. In the Hong Kong flashbacks, Maseo and Oliver are still on the hunt for Chien Na Wei, and Amanda Waller has them torturing everyone in order to find the silver haired villain. This time she used a mind-control drug (one that would also factor into the present storyline) to force an unwitting scientist to steal a substance called omega from his biotech lab. And while Maseo and Ollie were off torturing said unwitting scientist, China White was attacking and kidnapping Tatsu. I don't think it works out, since Maseo ends up in Nanda Parbat calling himself Shabah or the Phantom.
The Queens
There aren't many Queens left so I just decided to lump all of Team Arrow into one extended family. And having recently lost one of their own, Oliver, Dig, Felicity and Roy are having a rather blue Christmas. Or Chanukah, in Ms. Smoak's case. The Arrow and Arsenal are tracking down leads while Caitlin is analyzing the DNA sample, but none of this is happening fast enough for their shadowy former ally/newest adversary. I also liked the computer screen shout-out to The Flash's mid-season finale, which saw Barry throw-down with the Central City's 'Yellow Blur.'
Ultimately, both the interrogations and forensics lead to the same place: the Merlyns. Well, first it points to Oliver, but the focus quickly shifts to Malcolm and Thea. The big brother doesn't want to believe his little sister is capable of killing Sara and, in the end, he's technically right. Malcolm used that mind-control drug I mentioned earlier to make Thea do it as part of a convoluted plan to clear his name with his former crew. I guess he's sick of Corto Maltese? Just wants to spend more time in Starling City with his family.
Okay, I know Ray Palmer has nothing to do with the Queens, but since he's entangled with Felicity, he's Queen adjacent and close enough to be included in this section. Besides, he is the owner of Queen Consolidated, he just doesn't call it that anymore. And now that he owns their tech, he was able to put his spin on the O.M.A.C. Project and turn it into the A.T.O.M. That reveal was pretty rad, but I want to see Ray in the suit, not just the neon outline projected in front of him. Perfect timing for a new hero too since, well...
The Ghuls
The Ghuls might be the only family on Arrow having a happy holiday. I mean, Ra's looked positively pleased to get to go toe-to-toe with Oliver. After all, it had been 67 years since someone had challenged him. Yeah, something ain't right with Nyssa'a dad. Did you also notice that when the combatants were shirtless, he didn't have a mark on him? Oliver has a few and he's 'just a boy.' Since Team Arrow wasn't able to bring Sara's killer to justice, the League of Shadows decided it was time to take matters into their own hands. Instead of turning in Thea to save the citizens of Starling from Ra's wrath, Oliver decides to face it himself in a trial by combat. It does not go well for our hero. Better than most, apparently, but not good enough. Something tells me the words Ra's said at the end might have some effect. And I wonder what's at the bottom of that cliff?
Arrow continues with Episode 10, "Left Behind," on Wednesday nights in 2015 at 8:00 p.m. ET on The CW. Created by Marc Guggenheim, Andrew Kreisberg and Greg Berlanti, the DC Comics inspired series stars Stephen Amell, Katie Cassidy, David Ramsey, Emily Bett Rickards, Willa Holland, Colton Haynes, Paul Blackthorne and John Barrowman.
Your Daily Blend of Entertainment News
Thank you for signing up to CinemaBlend. You will receive a verification email shortly.
There was a problem. Please refresh the page and try again.