B.J. Novak Sort Of Decides To Leave NBC's The Office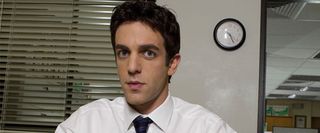 When a television program begins to show signs of aging, sometimes the writing will be less compelling and sometimes a network might even cut back on episodes. However, one of the biggest ways programs begin to show age is through the loss of staple cast members. This can, on one hand, shake things up for viewers, but can also change the dynamics within a TV show. For NBC's The Office, a program that has gone through eight seasons of inter-office politics and practical jokes, cast shake-ups are becoming a bit of a norm.
Minor characters have left The Office over the years, but the biggest shake-up probably occurred two seasons ago when Steve Carell's Michael Scott moved away. More recently, writer and actress Mindy Kaling announced she was moving on to helm new program The Mindy Project at Fox and now it turns out her buddy B.J. Novak is moving away from the comedy, too.
TV Guide is reporting Novak has decided to end his full-time gig at The Office. This means he will no longer write or appear as a series regular on the comedy, but that does not seem to mean he is cutting ties with the show completely. Fans of Novak's Ryan Howard will be pleased to note the writer/actor will still pop up on the show every now and again and may still even do a little bit of writing on the program.
While it seems weird to sever ties with the show without actually fully severing ties, Novak's move makes since. It will be nice to keep The Office in his back pocket, but with no more fun on-again, off-again moments in the works for Novak's Howard and Kaling's Kelly Kapoor, it's probably time to see what else the pilot world has to offer.
Your Daily Blend of Entertainment News