The Bachelor Watch: Juan Pablo Goes to Hobbiton. Seriously.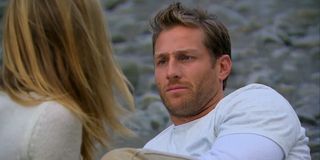 Shit is getting real, you guys — and in the case of the end of the episode, that shit was literal, and sheep-based. We've reached the serious point of the competition on ABC's The Bachelor. How do we know? Because I almost know all of the girls names now when I see them (sorry, Kat and Chelsie — blonde people all look the same to me). And professional foot-swallower Juan Pablo's gotten to the 'let's just not even pretend we're going to talk unless they force us' portion of the dates, where every word is met with a quick facial caress that turns into a hair-behind-the-ear tuck and a kiss. Because that's the only way you'll meet your soulmate, guys: strictly via salivary-based osmosis. Pretty sure that's science.
The biggest news of the evening, of course, comes on the heels of last week's swimmer's fiasco with Claire in Vietnam, wherein Juanie P basically made her feel shitty for asking him to go for a late-night sexy-swim. Not that this show's ever used emotional manipulation tactics! But we'll get to that match made in emotionally disconnected heaven in a minute.
First of all, this week's dates were set in New Zealand, which is beyond beautiful. So picturesque, in fact, that it reminded our fair Chelsie, of Ohio in a lot of ways. She's very astute and spot-on with her observations, no? The atmosphere for the final eight women was super-charged: Cassandra was sad, Clare felt a dark cloud, and Nikki felt herself falling for JP. New Zealand is the land of volcanoes, after all, and everyone is bursting. Emotionally.
Andi received the first one-on-one. The duo boarded a boat and sped through some waterways towards their very adventurous date… because Juan Pebbles needs to know if Andi's ready for the adventure that is his life. They traversed on foot through some increasingly tiny twists and turns that opened up to reveal a secret hot waterfall where they spent awhile making out. The entire journey was called The Squeeze because life is JUST LIKE THE SQUEEZE, you guys: you never know what's around each corner. Such poetic souls on this show. They spent the dinner portion of their evening eating food and getting wet. From the geyser going off, you guys! Oh jeez everything is a euphemism.
What was so great and not-at-all counterintuitive about Andi's date was how, after she declared she wanted to get to know JP on a deeper level, she decided to forgo question-asking and conversation in the name of more making out. After that came his signature hair tuck before he gave Andi the rose sothey could get back to making out.
The second one-on-one date went to Clare. Given the fact that she was "having a hard time with what happened in Vietnam" (tell it to the boys down at the Elks' Lodge, honey), we thought it would be dramatic but it all ended up underwhelming. They talked about the aftermath of The Swim, recapped that portion of the date immediately after it happened, and then danced around in sweatpants.
What was amazing about the date was how it revealed that these two are probably perfect for each other. Juan Pebbles revealed he felt obligated to say yes to Clare's invitation to because he knew she'd be disappointed and he avoids emotional confrontation at all costs. But soon after he realized he'd have to see, deal with, and accept her emotions regardless, which made him mad because he is incapable of dealing with his emotions. So naturally they spent the majority of their televised time together making out. Clare will likely end up in the top three, you guys, so better to accept that reality now.
The real surprise came during the group date to Hobbiton, where Cassandra — who was celebrating her 22nd birthday! Ha. — was sent home. After some fun in rolling around in big balls (called Ogos: and please, Ogo people, I need to use one of those STAT), they ventured onto the set Peter Jackson's Tolkien films, where Sharleen proceeded to geek out, further proving that she really has no place being on this show.
But back to poor, old (so old!) Cassandra, who only wanted to "work on her relationship with Juan Pablo" and find a father figure for her son, but ended up getting a swift kick to the byesies. There were hair tucks and declarations. But ultimately, Cassandra was bid adieu. Which devastated her because she has been waiting "so long" for love, you guys. Which, I mean, duh: that's inherent in her age (what a spinster)! For so many years, old crone Cassandra wandered through the driest of deserts, alone, wishing on a star, eating sand to keep herself alive. Now what?
Ultimately Sharleen, who seemed mostly disinterested in JP — but hey, whatever, lead with your tongue and apparently it gets you places — received the group date rose. This, of course, upset Renee who declared that "we really haven't said two words," to each other in regards to JuanPa, which is just so amusing on so many levels. He assured her she was one of his "special ones," alongside Cassandra, so no wonder she's feeling the heat and not in a good way.
Ultimately, Kat was sent home. Next week the top six are all going to Miami. Yay?
Your Daily Blend of Entertainment News