The Bastard Executioner Is Cancelled, Season 2 Won't Happen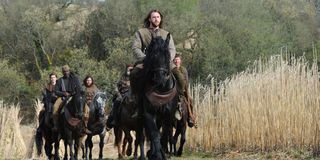 It's a sad day, but one that Kurt Sutter fans saw coming a mile away. This morning, The Bastard Executioner was cancelled over at FX in a very unique way: through ads that went up across various entertainment sites. Unfortunately, whether the network makes the announcement or an ad does, it all boils down to the same thing. The Bastard Executioner will not be returning for Season 2.
The move was made just after the Season 1 finale of Bastard, which aired over at FX last night. While the program did OK ratings during its Season 1 premiere, people didn't seem to be very struck by what they saw and ratings began to suffer in the weeks that followed. By the time Episode 6 aired, a combined 1.9 million total viewers—in weekly numbers—were tuning in. That's not enough to cover the cost of the period drama, and FX President John Landgraf ultimately made the call, telling Sutter the show could go out however he chose it to. Sutter made the call to advertise, according to Deadline.
Despite the fact that FX President John Landgraf has been boasting about FX's great content, the network has had some trouble bringing in new viewers in recent years, as steady performers and popular programs like Justified and Sons of Anarchy have ended their runs and long-running programs like Archer have gotten older. Newer programs, from The Comedians to The Bastard Executioner have seen short lives on the network as it struggles to compete with the wealth of TV on the air right now.
The Bastard Executioner's failure is a bit of a blow, as Kurt Sutter is a showrunner with a loyal following, much like someone like Shonda Rhimes. Part of the problem is that he radically reinvented his viewpoint as a showrunner by taking on a period drama. The people who want to tune in to watch antiheroes drop f-bombs and engage in modern criminal activities each week are not necessarily the same people who can stomach period dress and language. I bring that point up specifically, because as a Sons fan who watched the first episode of The Bastard Executioner, I had major trouble engaging with the cadence of the language in the series. I never went back.
Not that Sutter shouldn't have given The Bastard Executioner a shot. It's admirable he put together a project he normally may not have created. In this case, it didn't work out, but hopefully that won't deter the showrunner from trying new, oddball projects in the future. At least he seems to have a proper outlook regarding how Bastard turned out.
On the bright side, too, at least it means Sutter can get back to planning that Sons prequel we've heard so much about.
Reality TV fan with a pinch of Disney fairy dust thrown in. Theme park junkie. If you've created a rom-com I've probably watched it.
Your Daily Blend of Entertainment News
Thank you for signing up to CinemaBlend. You will receive a verification email shortly.
There was a problem. Please refresh the page and try again.