Ben Affleck Controversy Leads PBS To Suspend Finding Your Roots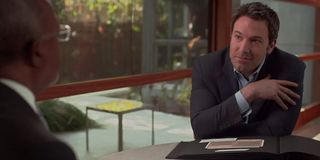 PBS isn't typically an outlet that is particularly reactionary, but after one of the network's shows recently came under fire for caving to celebrity pressure, the network is changing its tune. After an episode of Finding Your Roots was found to be edited to avoid speaking about mega-star Ben Affleck's slave-owning ancestor, PBS is shutting the doors on the series, at least for some time.
Following the Ben Affleck brouhaha, the network apparently did an internal review of the episode, finding that the co-producers of the series "violated PBS standards." The review also found that the creative team had been unduly influenced by a celebrity who sought to influence the editorial process and make his episode of Finding Your Roots seem more positive and uplifting than it otherwise would have been. Basically, Mr. Affleck's attempts to "affect program content" were a big no-no.
Here's what happened. Back in October, an episode of Finding Your Roots featured Ben Affleck learning about his ancestors. When the episode aired, it made no mention of a slave-owning ancestor. But then the Sony leaks happened, and we learned that Affleck had actually pressured producers to cut the information from the episode of the PBS program. Affleck later mentioned he was ashamed of the information he had received about his family on the show. The producers were not pleased about the prospect, but eventually, they still caved.
The leaked information led to the internal review and now Finding Your Roots has been postponed. The third season of the program will not air until PBS is satisfied the program will retain network standards (and keep PBS from having to deal with the embarrassment of controversy again). If all goes well, a fourth season could still potentially be in the cards, but the controversy could just as easily end up being a death sentence for Finding Your Roots, which was before seen as a credible series hosted by Harvard professor Henry Louis Gates, Jr.
Finding Your Roots isn't the only TV series that is currently mired in controversy. 19 Kids and Counting was similarly pulled from television by TLC after one of the members of the Duggar family was found to have molested girls when he was a young man. The fate of that series is also currently in limbo.
While PBS' controversy is outwardly less shocking than TLC's, it's nice to see the publicly funded network is committing to factual accuracy and quality programming. Likely, Finding Your Roots will be back on the air at some point, reputation mostly intact.
Your Daily Blend of Entertainment News
Reality TV fan with a pinch of Disney fairy dust thrown in. Theme park junkie. If you've created a rom-com I've probably watched it.