Big Bang Theory: The Awesome Reason Billy Bob Thornton Made An Appearance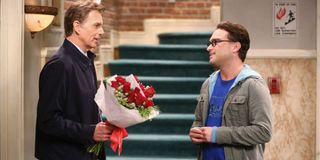 Last year during Season 8 of The Big Bang Theory, the series welcomed Oscar-winning actor Billy Bob Thornton as a surprise guest. Thornton's appearance, while a pleasant surprise, is not the typical type of actor to make guest appearance on the nerdy science-heavy TV series. But Billy Bob Thornton spoke out on why he decided to pop in on The Big Bang crew, and his answer is pretty much the sweetest thing you'll hear all day.
On the soon-to-be released The Big Bang Theory: The Complete Eighth Season DVD, Thornton shares the story of how he got on the series for his guest spot (via TVLine). And it's totally awesome:
Apparently both Billy Bob Thornton and his mom, are big fans of the series, so it was a treat for the entire Thornton family. And as for the cast of The Big Bang Theory, they were pretty shocked. In the featurette, Kaley Cuoco recalled hearing that the critically-acclaimed actor was coming on the show, and she didn't even believe it at first. And the guest appearance surprised fans of the series just as much. The guest role had not been previously announced, and surprised millions of fans. Of course, no matter how huge of a star Billy Bob Thornton is, he clearly still just wants to impress his mom.
During the episode, entitled "The Misinterpretation Agitation", Thornton's character Dr. Oliver Lorvis showed up at Penny, his favorite pharmaceutical rep's door. And while Leonard gets upset at the fact that Penny hides her engagement ring to try and help boost her sales, Dr. Oliver Lorvis and the rest of the guys end up having a ton in common (including a crazy awesome collection of sci-fi memorabilia). Also knowing that Thornton signed on for his mother, makes his character's living situation (he lives with his mother) all that more hilarious.
The Big Bang Theory: The Complete Eighth Season comes out on DVD on September 15, and will include this featurette from Billy Bob Thornton and more. As for Season 9 of The Big Bang Theory it will return to CBS on September 21 at 8:00 p.m. E.T.
Your Daily Blend of Entertainment News
Your Daily Blend of Entertainment News
Thank you for signing up to CinemaBlend. You will receive a verification email shortly.
There was a problem. Please refresh the page and try again.