Big Brother 15 Live Feed Updates: Who Won The Veto?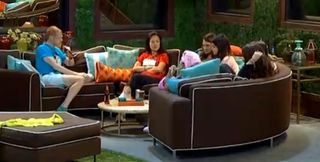 Following a fairly unpredictable double eviction episode for Big Brother on Thursday night, with Candice and Judd sent packing, we were left to wonder who would win the next Head of Household and whether a pattern of unpredictability would begin, or if this week the Head of Household will aim for a more obvious target. If you don't want to know what's been going on in the house since the live episode, including who won Head of Household, who they nominated and who won the Veto, read no further!
That's your spoiler warning.
As we reported on Friday, Andy won the latest Head of Household. It sounds like it was some kind of ball-throwing competition. In a fairly predictable move, he nominated Spencer and Jessie. He assured Jessie that she's safe and that he had a back-up plan in place. He also assured Spencer that he would not be going home. And he threw GinaMarie's name around as a possible back-up nominee/back-door plan if the Veto was used. Pre-Veto, it seemed like people were waiting to see who won the Veto before making any set plans beyond that.
I think the Veto was the "fold or stay" betting Veto where the houseguests answer questions and then have to decide how confident they are with their answers. Andy won, earning himself his first Veto after winning his first Head of Household.
Right now, it's looking like Andy won't use the Veto, despite what he told Spencer and Jessie about being safe. From what I've seen, he's still assuring both of them that they're safe though he's not planning to take either of them off the block. Since the Veto competition, he's spent some time talking to people to try to weigh the pros and cons of either going. It seems like Andy would feel safer keeping Jessie because he has a better relationship with her 1:1. Whereas Spencer's a bit less predictable in terms of whether or not he'd target Andy in retaliation for putting him on the block.
Of course, who stays and who goes is out of Andy's hands the moment he doesn't use the Veto. Assuming he doesn't use the Veto. It's entirely possible that someone will get in his ear or something with happen between now and the Veto ceremony that causes Andy to change his mind and target someone in particular. Right now, he seems to be trying to leverage his Veto for loyalty with people in the house. This season, people have been mostly sticking to their word in doing what the Head of Household wants, but with fewer and fewer people in the house, the ability to play along with the house and fade into the background is becoming more and more difficult. People will have to start taking some chances and figuring out who they personally need in the house to get them to the end. That's what makes this such an interesting week, because that answer varies pretty drastically between Spencer and Jessie. Neither houseguest has strong ties with anyone, but Jessie is probably closer to Aaryn, Helen and Elissa, while Spencer has a better chance of staying if Amanda and McCrae decide to keep him. But it's still way too soon to tell what will happen. Right now we just have to wait and see whether or not Andy uses the Veto, and what the mood of the house is once the two nominees are locked in place for the week.
And during tonight's episode of Big Brother we'll hopefully get to see what went down that led to Judd's eviction last week.
Your Daily Blend of Entertainment News
Thank you for signing up to CinemaBlend. You will receive a verification email shortly.
There was a problem. Please refresh the page and try again.