Big Brother 17 Live Feed Spoilers: Who's Nominated And Who Won The Veto?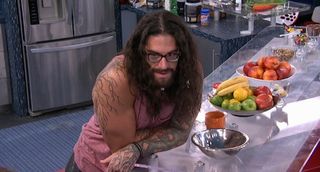 Spoiler Alert: This article contains spoilers from the Big Brother live feeds, including who won Head of Household, which juror returned, who was nominated, and who won the Power of Veto. Read on at your own risk!
Head of Household
Vanessa
Returning Player
Johnny Mac
Nominated
James
Meg
Won the Veto
James
The Target
At present, Vanessa seems determined to get Meg out this week.
Admittedly, I was away for a couple of days, but I've logged more hours than I care to admit trying to get caught up on what's been going on in the house on the live feeds (opens in new tab). Following up on Thursday's live episode, which saw the eviction of Johnny Mac, said evictee joined the previous three jurors for a shot at returning to the game. And Johnny was the last Juror standing, sending Shelli, Jackie and Becky back to jury-land. And it's just as well. I remember Nicole complaining about being behind on everything and not being able to get her head back into the game when she returned. If any of the four evictees had a reasonable shot of actually staying in the house after returning, it's J-Mac.
The Head of Household competition came down to Vanessa and Johnny Mac. He dropped (seemed involuntary) and Vanessa won Head of Household.
At this point, the house is divided between James/Meg, Austin/Julia/Liz and Steve/Johnny Mac. The Rockstars alliance of Steve and J-Mac may be strained after the two were on the block, but it doesn't appear to be broken. So, who does Vanessa target? Last week, it seemed like she was trying to nudge Austin toward having her use the Veto so he could nominate Meg. She was careful about how much pressure she applied to that whole situation though, and when Austin seemed opposed to targeting Meg/James, Vanessa chose not to use the Veto. So it's not entirely surprising that Vanessa set her sights on James and Meg for nominations.
It seemed like Vanessa was willing to see either James or Meg go this week, but I'm inclined to believe that if she had her choice, Meg would be the actual target. James won the Veto, which was the hide-things competition, which sends the houseguests running around the house, tearing the place apart in search of each other's hidden thing. Sounds like James had a really good hiding place for his object, and he came out victorious in the competition. After the feeds came back on, the houseguests spent some time cleaning up the wreckage.
Now that James is presumably going to use the Veto to save himself, Vanessa has to choose a replacement nominee. From the conversations I've seen, it seems like her goal is to put up a pawn that will ensure Meg goes. Right now, it appears to be Julia, though that could change. Steve is probably her other option, but doing that betrays the trust she may be trying to build with him. Julia is the easy option, as Austin and Liz would never vote her out.
So, why is Meg the target? It's not entirely clear other than that getting Meg out would potentially leave Vanessa in the best position in terms of how bloody her hands are. Then again, she could target Johnny Mac and no one would likely cause a fuss. After all, the whole house voted him out last week. Vanessa's reluctance to put Johnny Mac up as the replacement nominee suggests she sees more value in him staying than Meg. And since Johnny Mac has been trying to work with her over the last couple of weeks, that makes sense.
Vanessa's reasoning for targeting Meg is pretty vague, at least when she's talking to other people, and I don't expect much more information to come from her diary rooms, as she hasn't been as up front about her game as I wish she would be. But if I'm guessing the reason why she's going after Meg, a couple of things come to mind. For one thing, Meg's more likely to work with almost anyone else before her. She and Vanessa just don't seem to click. It's probably because Meg's head isn't really in the game, and that's the only place Vanessa's is.
And then there's the Victoria-factor. Meg has issues with her knees and has proven to be pretty unskilled when it comes to competitions, which makes her seem very unthreatening at this point in the game, when comp-wins are going to become even more crucial. Meg being a non-threat makes her much more likely to be used as a pawn to get better competitors out. It's possible Vanessa realizes that, and knows that it's just a matter of time before she or someone she needs is sitting next to Meg on the block, and if that happens, the person next to Meg is probably going home. If she doesn't go soon, she's going to the Final 3.
Maybe I'm giving Vanessa too much credit, but from a game perspective, and from her perspective, this may be the best move she can make, assuming she actually moves forward with nominating Julia as the pawn next to Meg. If she nominates Johnny Mac to stay in Austwins good graces, she's hurting herself (as she seems to be cultivating an alliance with Steve and J-Mac), and also leaving Meg in the house. As of last night and today, it's looking like Vanessa has been trying to get Julia, Liz and Austin on board with the plan to pawn Julia and send Meg out. Things could change between now and Monday's Veto ceremony, but as of right now, it looks like Julia will be the replacement nominee, and if that happens, it's an all but certainty that Meg will go home.
The Big Brother houseguests know a double eviction is coming, but I don't think they have any idea that it's this week, yet anyway.
Kelly joined CinemaBlend as a freelance TV news writer in 2006 and went on to serve as the site's TV Editor before moving over to other roles on the site. At present, she's an Assistant Managing Editor who spends much of her time brainstorming and editing feature content on the site.
Your Daily Blend of Entertainment News
Thank you for signing up to CinemaBlend. You will receive a verification email shortly.
There was a problem. Please refresh the page and try again.