The Big C's Final Special Season Titled Hereafter, Adds Kathy Najimy And Isaac Mizrahi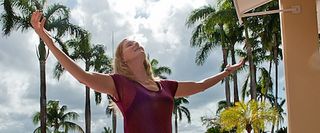 We learned last summer that The Big C had been renewed for another season - kind of. The Showtime drama series was picked up for four more episodes, which will close out the series, concluding the story of Cathy, a wife and mother living with a cancer. Since it's a special season, it's getting a special title, and two guest stars!
Showtime announced today that The Big C will conclude with a four-hour limited event series called The Big C: hereafter. The network went on to say that Kathy Najimy and Isaac Mizrahi will guest star. Najimy's credits include Sister Act, Veronica's Closet, and more recently, ABC Family's Make It or Break It. She's set to appear in all four episodes of The Big C: hereafter as Cathy's "no-nonsense therapist who will help her deal with the challenges she faces." From what we've seen of her in previous roles, it's easy to picture her playing a character like that.
Meanwhile, fashion designer Isaac Mizrahi will appear in more than one episode of hereafter as the fashion mentor to Gabourey Sidibe's character Andrea. That too should be interesting, and given Mizrahi's background in fashion, he's probably well equipped for this role.
Cathy's had her ups and downs with her battle with cancer, and the nature of the show, which combines drama with comedy, makes it impossible to predict if this is the kind of series that's going to end with Cathy surviving and getting a fresh start on life, or if she'll lose her battle with the disease, which would be tragic, but possible. The Big C is the kind of series that makes me laugh and tear all at once. Whether the ending is happy or sad, something tells me I should stock up on tissues.
No premiere date was mentioned in Showtime's release, but it'll probably be sometime next year (2013).