Bill Murray Showed Up On Parks And Recreation Last Night To Play A Dead Guy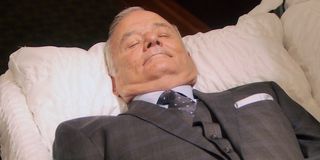 Fans of NBC's Parks and Recreation have seen lots of cameos over the course of the last six years. Last night, however, we were graced with what could be argued as one of the best Parks and Rec cameos to date. During the brand new episode, Bill Murray showed up to play, err, a dead guy.
In last night's episode, actor and comedian Bill Murray popped up on the show. He ended up playing the mayor of Pawnee Walter Gunderson, who also happened to be deceased. Regular viewers were likely already aware of the mayor's existence, due to his many prior mentions throughout the show's history, but this was his first onscreen appearance. And let's just say Murray's Gunderson left a lasting impression. We were greeted by the mayor at his open casket funeral and through a video message which he left, addressing the residents of Pawnee.
According to the Huffington Post Amy Poehler has long had a burning desire to have Murray pop up on the show, even going so far as to say she wanted him to play the mayor of Pawnee. She's even mentioned she "dreams about it every night." It seems like the big cameo worked out as well as Poehler hoped. Show creator Mike Schur had this to say about working onset with Murray:
As noted prior, Bill Murray isn't the only famous name to have ever popped up on the series. We've seen Werner Herzog sell Andy and April a haunted house, R&B singer Ginuwine dedicate a song to the town mascot Li'l Sebastian at the Pawnee/Eagleton Unity Concert and we've seen Jon Hamm, as the inept employee Ed, get fired by Leslie Knope. We've also seen a handful of famous political figures make appearances, including Michelle Obama, Joe Biden and Newt Gingrich.
This is the seventh and final season for Parks and Recreation and let's just say its dedicated audience will be more than sad to see it go. Due to production on the show ending late last year, we've already seen many of the cast and crew announce their goodbyes to the world. But what will the final two episodes have in store for us? Only time will tell.
Tune in for the final two episodes of NBC's Parks and Recreation airing on Feb. 24, 2015 on NBC directly after the hit singing competition show The Voice.
Your Daily Blend of Entertainment News