How The Cast And Crew Of Parks And Recreation Said Goodbye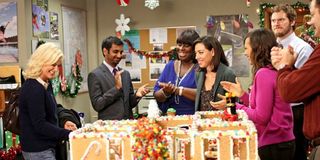 Today marked the final day on set for the cast of NBC's Parks and Recreation and though the show has been given a solid run, it's still sad to say that final goodbye. But no better way to give us a heart-felt farewell then by Michael Schur, Nick Offerman, Adam Scott, Jim O'Heir, Aubrey Plaza and more tweeting out their memories to the world. Michael Schur, co-creator of the show tweeted some of the more sentimental props of the set and stars of the show shared their own moments. And all of the tweets remind us that even though the show is coming to an end, Parks and Rec has taught us so much, and Pawnee will live in our hearts forever.
We'll always remember Leslie's makeshift wedding dress that reminded us that everything Ann Perkins touches, turns to gold (also friendship!)
Or when Ron and Andy's boys-only Pawnee Rangers, and Leslie's girls-only Pawnee Goddesses hit the wilderness and learn the value of acceptance.
And everyone will always remember that no waffles can ever compare to waffles from JJ's Diner.
Also that even though Ron and April hate most things in the world, they are some incredible friends to have.
We learned that Aubrey Plaza and April Ludgate are basically the same person.
And that Tom Haverford will always win in a "Best Dressed" contest.
But what Pawnee, and Parks and Rec taught us above all else, is that when a group of wonderful people come together, magic happens.
Our own final goodbyes will begin next year, when the seventh and final season of Parks and Recreation will premiere Tuesday, January 13 at 8 p.m. ET with back-to-back episodes every week until its hour long finale on February 24.
Your Daily Blend of Entertainment News
Thank you for signing up to CinemaBlend. You will receive a verification email shortly.
There was a problem. Please refresh the page and try again.