Black Sails Attracts Millions Of Eyeballs, Eye Patches During Debut Weekend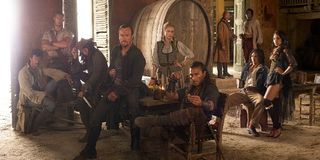 Saturday is not typically a big night for television, but the subscription cable channel Starz has challenged this notion by airing its brand new production Black Sails on that very evening. It would be easy to see this as a dicey proposition, but the nice thing about subscription cable is that after a show's initial airing, that program is readily available to the public, and in the case of Black Sails, a Saturday premiere date absolutely paid off, bringing in millions of viewers across multiple platforms over the weekend.
On Monday, the network announced that while only 850,000 viewers tuned in to watch the premiere of Black Sails during its initial airing, a whopping 3.5 million viewers tuned in over the weekend to feast their eyes on the new pirate-based drama. More importantly, 1.7 million total viewers caught the drama on Saturday night, making it Starz's best premiere night ever, a fact that might make you nod appreciatively until you realize it's biggest competition thus far has been The White Queen. Of the 3.5 million total eyeballs on the series premiere, 2.6 million total viewers watched the drama via a television platform. Another 900,000 viewers watched the premiere through other means.
That may not seem like a ton of eyeballs, but it's a fine enough start for a program on a subscription cable station (don't let those gargantuan Game of Thrones ratings fool you). While those numbers might not seem big enough to expect the series to return for a second season, Starz has already jumped the gun and commissioned a second season. It's a move the network has made with other dramas, including Magic City, but I'm hoping this time around that Black Sails will have a more extended run on the network.
Starz is in dire need of a signature show right now, and Black Sails is a big, bold period drama assumedly put together to fill the niche left by Spartacus last spring. There's not as much of a stylistic look to the new series, but hopefully that is just coming from less budget restraints. If there's anything Black Sails has going for it that's totally different than everything else on television, it is the incredible detail and depth to its pirate sets.
If you aren't among the 3.5 million total viewers that caught Black Sails during its first week, you aren't out of luck—even if you don't subscribe to the subscription cable network. I know it often sucks to delve into a show that you can't continue, but if you do want to give the drama a shot, you can catch the pilot episode for free over at Starz.com (opens in new tab), and while you are there go ahead and check out that free episode of Party Down.
Black Sails isn't the only drama headed to the network in 2014. Additionally, the subscription cable station has the time travel romance series Outlander in the works. In the meantime, you can catch new episodes of Black Sails on Saturdays at 9 p.m. ET.
Reality TV fan with a pinch of Disney fairy dust thrown in. Theme park junkie. If you've created a rom-com I've probably watched it.
Your Daily Blend of Entertainment News
Thank you for signing up to CinemaBlend. You will receive a verification email shortly.
There was a problem. Please refresh the page and try again.