Boardwalk Empire Watch: Season 5 Premiere - Golden Days For Boys And Girls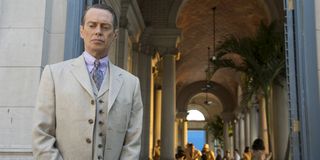 "Be honest and true, boys, whatever you do, boys, let this be your motto through life. Both now and forever, be this your endeavour when wrong with the right is at strife. The best and the truest alas are the fewest, but be one of these if you can. In duty ne'er fail, your find will avail you and bring its reward when a man...
Despite what the Emmys would have you believe, Boardwalk Empire was easily one of the most 'Outstanding Drama Series' last season. Maybe, the most outstanding. Tim Van Patten did snag a nomination for 'Outstanding Directing' for his work on the Season 4 finale, "Farewell Daddy Blues," and the bootlegging series was smart enough to bring him back to shoot the Season 5 premiere even though he didn't win the award. Why dwell in the past? It only seems fitting since the first installment of the fifth season, "Golden Days for Boys and Girls," is also preoccupied with looking back in order to move forward. And speaking of the past and future, I'm also probably going to keep carping about the awards Boardwalk Empire should have won since we're down to the show's final eight episodes. It's legacy time.
"Thought you were being clever before, hm? Thought you were gonna get something for being honest? What have you got?"
The flashbacks to 1884 Atlantic City are the most obvious example of the premiere's focus on the past and how it constantly impinges on the present and even the future. The opening scene with a young Nucky (Nolan Lyons) swimming for coins is absolutely gorgeous and continues Boardwalk Empire's commitment to stunning cinematography. However, as beautiful as the scenes were to look at, they were far less interesting to watch. I don't really care about his boyhood feud with Jim Neary. And something about the addition of flashbacks just felt out of place. And not only because I spent the better part of the scenes wondering if that was April from Parks and Recreation's dad playing the young Commodore. It is.
"Tie that boot."
The first cut from the sepia-flushed flashbacks to the cold, crisp blue of Chalky's thread was suitably jarring, bringing us out of the past and intro the harsh present, and once again illustrated how wonderful Van Patten's work is on Boardwalk Empire. To be fair, the show looks incredible every week but the Emmy nominated director's compositions are spectacular; the reveal of the bars and nature behind Chalky (in close-up) by the guard comes to mind. His storyline was far more satisfying than the look at Nucky's formative years, and I especially liked the recurring issue with the boot as well as the bit about the telephone. This fellow escapee seems like a stable fella. A good fit for a business partner. Someone who's bound to keep things interesting, that's for sure.
"Did I ask how you feel?"
After being absent for a large percentage of last season, it's nice to see Margaret Schroeder, sorry, Rowan in the action right from the first episode. Season 4 was perhaps the series' best, but that doesn't mean Kelly Macdonald's absence wasn't felt. Margaret's scenes in the premiere were the first where Boardwalk's seven year time-jump between seasons was really felt, with her boss' shocking suicide a nod to the now post-Great Depression setting. It's officially the 'Dirty Thirties.' (For more on the fantastic scene, read what Jessica had to say about it here.) It's also interesting that Margaret and Arnold Rothstein's relationship has lasted past his death with her sneaking into her former boss' file cabinet to snag all the information regarding the A. Redstone account. She always was a smart one.
"To us and only us. Now and forever."
Also in New York City - Coney Island and then the Bronx to be exact - is where we catch up with Lucky Luciano, who is still serving as a lieutenant under Joe Masseria. Well, for the moment anyway. Their final exchange is exquisitely written and shot, with the two reflecting on their time together before the younger Sicilian retreats to the restroom to make room for his goons, Bugsy and Tonino, to come in and fill the would-be Caesar full of lead. And like that, the 'fight' is over. His dream of one boss does come true, only it's Don Salvatore Maranzano that becomes the head of la Cosa Nostra. For now. There's something fishy going on with Lucky and Meyer. And how gross was that blood oath? There's got to be a better way.
"Let's just be clear, certain issues regarding your past make moving forward tricky."
Back to that something fishy going on between Lucky and Meyer; whatever the two are scheming (assuming the two are scheming), it involves the latter going all the way to Havana to see Nucky. And after the two see each other, which amounts to nothing more than a quick dismissal of an invitation to sit down, some dude tries to hack Nuck's head off with a machete. And he would have succeeded, too, if it wasn't for Nucky's weird, ear-collecting new bodyguard. Now, that's an introduction. I like him. Sorry, I got ahead of myself.
The reason our lead is in Cuba is to position himself, with Sally's help, as the legitimate U.S. distributor of Bacardi Rum when the Volstead Act is repealed. It's all explained in this clip. But will Nucky live long enough to see prohibition become a thing of the past? A solid, albeit far from terrific, episode to start the fifth and final season.
"...Don't think life plain sailing, there's danger of failing, though bright the future seem to be. But bright honor and labor, and truth to your neighbor, will bear you safe over life's seas. Then up and be doing, right only pursuing, and take your fair part int he strife. Be honest and true, boys, whatever you do, boys, let this be your motto through life."
The final season of Boardwalk Empire continues with Episode 2, "The Good Listener," next Sunday at 9 p.m. ET on HBO. Created by Terence Winter, the series stars Steve Buscemi, Kelly Macdonald, Michael Shannon, Shea Whigham, Vincent Piazza, Anatol Yusef and Michael Stuhlbarg.
Here's a look at "The Good Listener"...
Your Daily Blend of Entertainment News
Thank you for signing up to CinemaBlend. You will receive a verification email shortly.
There was a problem. Please refresh the page and try again.