Bones Season 10 Trailer Teases Intense Moments For Booth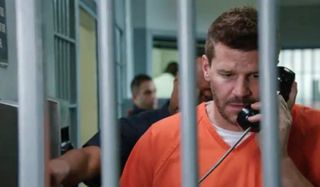 Bones is famously headed into its 10th season this fall and to celebrate, the good folks over at Fox put together a brand new trailer for the new season that premiered on Friday at Comic-Con in San Diego. The trailer is three minutes long, but it's mostly a highlight video of recent events that especially focuses on Booth and Brennan's relationship. Luckily, there is about a half-minute of brand new footage at the very end of the clip. Unfortunately, things aren't looking too good for Booth.
If you've been keeping up with Fox's veteran drama, you should already know that Bones has been a lot less of a basic procedural over the last several seasons. While the show still offers its signature gross-out moments, it's also a lot more personal than it used to be. The end of the last season followed Brennan and Booth as they struggled to unravel a government conspiracy within the FBI. Booth ended up in a gunfight against a crew of henchmen who infiltrated his very home. He managed to escape with the help of Bones, but had to be hospitalized immediately and when we left off, the big FBI man's future was in limbo. You can see a lot of that footage early on in the new trailer.
The good news? Booth has survived yet another violent ordeal. The bad news? He's totally rocking a jump suit, and let me tell you, orange is not the new black. Neither is the grizzled look actor David Boreanaz grew for the scene in the video. I think we all miss his chiseled cheekbones from his Buffy and Angel years, but the prison look does not suit the actor, at all. As the footage spotlights, the show will be picking up four months after the events occurring in the Season 9 finale. The news was announced at Comic-Con on Friday, but the really intriguing information is all available in the trailer, which shows how various inmates react when there is an FBI guy in the slammer. It may be tough to be square, but it's also tough to be framed.
EW first made the trailer available, also noting that Season 11 might be in the cards. Bones is definitely an aging show, and it's an aging show whose leads will need to re-up their contracts at the end of the season. Anything could happen, but there's a good chance Fox will open its wallet to bring Bones back again. In the meantime, you can catch new episodes of Bones on Thursdays this fall. Season 10 will premiere on September 25 at 8 p.m ET.
Your Daily Blend of Entertainment News
Reality TV fan with a pinch of Disney fairy dust thrown in. Theme park junkie. If you've created a rom-com I've probably watched it.
Your Daily Blend of Entertainment News
Thank you for signing up to CinemaBlend. You will receive a verification email shortly.
There was a problem. Please refresh the page and try again.