Bourne Identity Star Franka Potente Joins American Horror Story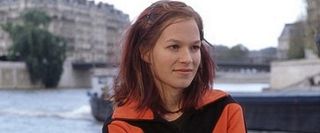 There's more casting news for American Horror Story, which seems to add more stars to the cast every few days or so. This time the addition will be Franka Potente, who appeared in both the first and second installments of the Matt Damon-starring Bourne movies.
Potente joins a cast that already has several returning stars from last year: Jessica Lange, Sarah Paulson, Lily Rabe and Zachary Quinto. She will be the next to join the list of newly added cast members that will include Chole Sevigny, Clea Duvall, Jenna Dewan, Joseph Fiennnes, and Chris Zylka among others. Season 2 of the series is set in a 1960s insane asylum on the East Coast, where the original cast members will play all-new characters. Jessica Lange is set to play the nun who runs things at the asylum. The setting for the new season makes the large cast make some sense, since an asylum in the 60s would have been a pretty well-populated place.
Franka Potente's two-episode arc on the show will see her playing one of the asylum's patients, according to TVLine Along with her gig on AHS, Potente is getting ready to appear on the BBC's new American series Copper, alongside Tom Weston-Jones and Kevin Ryan. You can catch her on that show when it premieres August 19th, ahead of her scheduled appearance on AHS, which has the premiere set to air in October. No word on when Potente's episodes of the series will air just yet.
Your Daily Blend of Entertainment News