Breaking Bad's Anna Gunn To Guest On The Mindy Project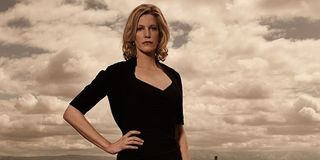 Skyler White is heading to New York City to hang out with… Dr. Mindy Lahiri? That's right you methheads, according to E!, Breaking Bad star Anna Gunn has prepared her first post-Heisenberg role and it is not at all what you were expecting, is it? Surely appearing as the idol of Mindy Kaling's character on FOX's The Mindy Project was one of the last moves you saw coming — admit it! But it's another day, another guest star on the popular Tuesday comedy so why shouldn't Skyler get in on the feel-good funny action? After all, if you were the wife of a meth empire kingpin, flogged with a continual stream of depressing, anxiety-inducing, batshit crazy shenanigans in Albuquerque, wouldn't you want to tackle something at a slightly slower speed? Skyler deserves this! Good move, Skyler.
And Gunn also clearly deserves the positive attention (anything that isn't Walter White showing up in your apartment — just off screen! — causing grief and horror in his wake). The Emmy-winning actress will play Dr. Lahiri's professional crush, a sleek and sophisticated doctor by the name of Sheila Hamilton. Set to appear in the series' 13th episode, Dr. Lahiri's admirations are apparently mutual, as "the Tory Burch of Manhattan OB/GYNs" (Lahiri's words) seems to have eyes for Mindy as well.
Professionally, of course: it's always important to keep things above board when the medical board is involved, natch. Still, it's hard to imagine what could possibly keep Mindy from accepting an offer of employment from the hip doc, as Dr. Hamilton seems to be living Dr. Lahiri's dream, what with her high-profile clientele of rich and famous pregnant New Yorkers. What sort of hijinks will ensue to ensure that this oh-you-fancy lady doctor doesn't get pulled away from the likes of Dr. Danny Castellano (Chris Messina), Dr. Jeremy Reed (Ed Weeks), and newly-ensconced Dartmouth bro-doctor Peter Prentiss (Adam Pally)?
Regardless, Gunn's appearance on the sitcom will surely bring a new audience to the show (What's the over-under on fans of both Breaking Bad and The Mindy Project you think?) and a welcome respite for the actress, who previously told the Chicago Sun-Times that she would "like to do a comedy … It's been quite a lot of heavy, intense drama for a long time." Surely The Mindy Project's ample use of Breaking Bad references (Mindy's now-ex boyfriend Jason (Ben Feldman) was an arts and culture writer with the distinction of being maybe the only writer on the planet to pen a negative review of the show) helped matters.
But Gunn is hardly the first guest star on the series — in fact the show has made booking familiar famous faces as its bread and butter. Outside of the aforementioned Feldman and Pall, James Franco got in on the guesting duties (when he wasn't going to one of his 87 different college classes or whatever). As has Anders Holm, The Duplass Brothers, Rob McElhenney, Timothy Olyphant, and a million people from Saturday Night Live and Kaling's original TV home, The Office. Now we just have to sit back and wait to see if we get some roof pizza or not.
The Mindy Project airs Tuesdays at 9:30 PM ET/PT on FOX.