Breaking Bad Comic-Con 2012 Panel Live Blog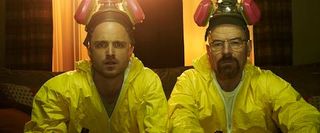 For all of those that watched the last season finale of Breaking Bad all the way back in October 2011, I have some very good news: your wait is almost over. This Sunday, July 15th, marks the season five premiere of the show on AMC and we couldn't be more excited. What will happen with Walt and Jesse's business? Is Hank going to catch up with them? Where does everything go from here? Hopefully we'll get a hint of that during today's Comic Con panel.
I'm currently sitting in the San Diego Convention Center's Ballroom 20 waiting for the start of the Breaking Bad event. The show has a whole bunch of talent coming down, as showrunner Vince Gilligan, Bryan Cranston, Aaron Paul, Anna Gunn, Dean Norris, Betsy Brandt, R. J. Mitte, and Jonathan Banks are all scheduled to appear. Keep hitting refresh to see my live blog!
6:52: Kicking off with the season five trailer. Already I couldn't be more excited.
6:54: Explosions, guns, explosions and drugs: Long Live King Heisenberg!
6:58: Vince Gilligan! Anna Gunn! R.J. Mitte! Betsy Brandt! Dean Norris! (in costume!!!!) Jonathan Banks! Aaron Paul! Bryan Cranston! All on stage!
7:00:Paul and Cranston are both dressed in their hazmat suits - as seen above - and holding a baby. Standing ovation from the crowd
7:01: Vince Gilligan says that the crown has been passed and now Walter White is now the king.
7:02: Is it possible for Breaking Bad to have a happy ending. Cranston suggests that Walt has fallen so far that his death may be the happy ending (though nobody knows the real conclusion)
7:03: Cranston says we all have this evil within us and that we all have the potential to end up like Walter.
7:03: Gillgan won't reveal if we have seen the last of Walt's cancer and still knows where this story originated.
7:04: So what about the evolution of Jesse Pinkman? Aaron Paul says that he is just happy to be alive. At first he is this lost kid and Walt screwed it all up. Cranston says that Jesse was aimless before Walt.
7:05: Obviously Walt and Jesse are close, but what happens when revelations are made about Jane and Brock? Paul says guns will blaze and Gilligan and Cranston both hope that he would forgive and forget.
7:07: Anna Gunn says that Skyler was even impressed with her own ability to lie about the gambling and the situation with her boss.
7:08: Vince Gilligan says this could be the year that Skyler plants her flag and runs with it.
7:08: Jonathan Banks says that Mike got lost a long, long time ago and moves forward with the people he needs to take care of. He also says that he doesn't want to talk too much because Gilligan gave him a list of things he couldn't talk about. He considers himself lucky to have been asked a question.
7:09: Does Hank have his mojo back? Dean Norris says yes, having been proven correct. He always needs to be doing his job and if he's not doing his job he's not happy. And now he's back on his trail.
7:10: Betsy Brandt says she is a huge reason Hank is back. So where is Marie in season five? It's about her relationship with Hank and the White family and we get to see more of that this season.
7:13: R. J. Mitte says that Walt Jr. has to love his father and that it will be an interesting ride if he ever finds out what's really going on with his family.
7:14: Gilligan says that it's the blood, sweat and tears of his six writers that have made the show what it is. The writers are in the audience and the crowd in Ballroom 20 gives them a huge applause.
7:15: The showrunner adds that the only reason we have Mike is because Bob Odenkirk wasn't available on a particular day. He was originally only going to be a Odenkirk who helped Jesse clean up Jane's body, but now we have Mike!
7:16: Gilligan says that the original plan was to kill off Jesse at the end of season one, after he had gotten Walt into the business. He also suggests that Jesse could still die, which gets plenty of boos.
7:17: One of the hardest scenes of the last season was when they were in the junkyard and Walt and Jesse were trapped in the RV with Dean outside the door. They almost had to rewrite it all but they figured it out (and it was brilliant).
7:18: Apparently the Germans are invading! The German company that bankrolled Gus is going to play a much bigger role and apparently we'll be hearing a lot more German than Spanish in season five. The show even travels to Germany in the second episode.
7:19: There's a new character named Lydia, played by Laura Fraser. Gilligan says he's never seen her out of character. She is a former associate of Gus' and is going to make life "interesting."
7:20: Gilligan says that this season is about winning and staying on top. Quotes Alexander wept when there were no more worlds to conquer.
7:21: Cranston says that the death of Gus means basically starting anew. He adds that a normal person would say "Whew" and get out of there. But not Walt. He just has a drive to be the best.
7:22: Paul says that the tone of this season is eerie and creepy. Talks about the episode "Crawl Space" and the scene where Walt is laughing under the house. The entire season will have that feel.
7:23: Apparently the season five premiere has a great amount of dark humor that they weren't necessarily reaching for, as does the rest of the season.
7:24: Aaron Paul's favorite line of the new episode: "Magnets, bitch!"
7:25: The Pontiac Aztec cannot be killed. Gilligan calls the car a cockroach in that it could survive the apocalypse.
7:26: Jesse Plemmons from Friday Night Lights will be playing a character named Todd that they describe simply as "very important." More people get into the inner circle and that doesn't end up well.
7:26: More Badger and Skinny Pete in season five! Gilligan also adds that the first time we see Skinny Pete we will get to see something "new" about the character.
7:27: But what about Saul? He's still very much in the mix. Gilligan says that he is one of the few characters that knows exactly who he is and enjoys it (or at least he used to).
7:29: The cartel finds Walt easily but Hank and the DEA is still having trouble. How did that happen? Dean Norris says that they have had too much success and too many seasons. Says that Hank realizing Walt is Heisnberg would come across as bad writing to the character because he sees Walt as being so milquetoast.
7:31: Within the first few minutes of the premiere we will apparently get a continuing arc for the season like the pink stuffed bear. Apparently it has something to do with something in a trunk. It's also a shout out to a past episode. "What it all means? Who's to say?" says Gilligan.
7:33: Fans are arriving to the mic to ask questions of Gilligan and the cast.
7:34: First question: For Cranston and Paul, what is your favorite episode? Paul is stumped, but says that he loved the scene where the two kicked the shit out of each other (the one last season when Jesse found out that Walt bugged his car). Cranston says that it's the pilot episode when he was experiencing the ying and yang of the whole thing. They both cite "Four Days Out" as well.
7:34: Can we expect a new bottle episode this season like "The Fly"? Gilligan says that bottle episodes are made because they need to cut down on costs. Apparently the fifth episode is the complete opposite of a bottle episode. Says it's the first place where they shot outside of Albuquerque (apparently they didn't really go to Germany).
7:37: Did Cranston ever see Walt breaking bad as bad as he has? Cranston says, "Yes." He was first pitched on it by being told that Gilligan wants to turn a good man into a bad man. Cranston says it has never been done in the history of television.
7:41: Does Walt have any redeeming qualities? Do Vince and Walt sympathize with him anymore? Cranston says no to sympathy because he can't judge a character that he's playing. He made a decision a long time ago and he's dealing with the consequences. Redeeming qualities? "He makes damn good meth!"
7:42: Gilligan was worried about likability because with each episode that Walt becomes more evil. After a while though he stopped losing sleep over it because he remained as fascinating a character as ever.
7:43: There's apparently a moment in this upcoming season that finally led Gilligan to completely lose sympathy. I can't even imagine what that would be.
7:44: Gilligan says that it was episode four in the first season that Walt reached the point of no return.
7:45: Gray Matter will be making a return in the first eight episodes of season five!
7:46: What does Gilligan plan to do after Breaking Bad is done? He says that he hopes this isn't the highlight of his career and hopes that he has more in him. He doesn't know what it will be though. He quotes episode two of the new season saying, "When you win the lottery, the first thing you don't do is go out and buy another lottery ticket." Says that this cast is his second family and doesn't want it to be downhill from here. Isn't ruling out movies either.
7:47: Cranston closes the panel by thanking the audience for supporting this little show. Standing ovation and incredible applause rings out.
7:48: And that's a wrap! Watch the premiere of season five this Sunday on AMC!
NJ native who calls LA home; lives in a Dreamatorium. A decade-plus CinemaBlend veteran; endlessly enthusiastic about the career he's dreamt of since seventh grade.
Your Daily Blend of Entertainment News
Thank you for signing up to CinemaBlend. You will receive a verification email shortly.
There was a problem. Please refresh the page and try again.