Breaking Bad Finale Sets All-Time Ratings High With 10.3 Million Viewers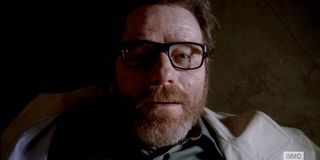 It can't hold a candle to all-time biggest TV finales like M*A*S*H, Seinfeld or even Lost, but Breaking Bad's finale set a remarkable high water mark for the series, with 10.3 million viewers tuning in to watch it live. According to the early numbers at Variety, that was nearly 4 million more than watched last week's "Granite State" live, and by far the biggest live audience the show ever earned.
Earlier today Mental Floss ran down the ten most-watched TV finales ever, from Home Improvement's 35.5 million viewers to M*A*S*H's all-time (and likely to never be matched) 105 million, and it was clear that Breaking Bad couldn't possibly match them-- with DVR playback, online downloads and the simple fact that there's a ton of other things to watch on TV, ti's rare for any show to get that big. But Breaking Bad's numbers are still in line with other landmark cable show, falling just short of the Sopranos finale numbers (11.9 million) and roughly matching those for Sex and the City's final episode (10.6 million). It's still behind the numbers for the most recent season finale of The Walking Dead, which was watched by 12.4 million people, but there's just no accounting for zombies I guess.
The most amazing thing about the Breaking Bad finale by far, even more than where it left our hero, is that the show's viewers had quadrupled in the last two years, even before those huge finale numbers. The mid-season finale of Season 5, "Gliding Over All," was watched by 2.78 million people. I don't have the facts to back this up, but I have a hard time imagining that any other show has made that kind of exponential increase in fans from one season to the next. Breaking Bad may be a phenomenon still limited to a tiny percentage of American TV watchers, but that tiny percentage has grown mightily-- a major victory for AMC that will hopefully allow them to to pursue more ambitious, daring shows in the future, without constantly trying to lowball them.
For more on the Breaking Bad finale, you can check out our rundown of the body count, our official recap, and a close read of the meaning behind the two songs used in the episode.
Your Daily Blend of Entertainment News
Staff Writer at CinemaBlend