Breakout Kings Cancelled By A&E, Executive Producer Matt Olmstead To Run Chicago Fire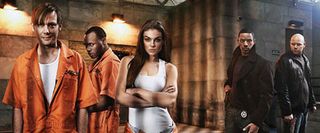 A&E is a network built on unscripted programming, which is suitable for a channel that rolls with the tagline "Real Life. Drama." So, when the show premiered Breakout Kings, a scripted drama produced by Matt Olmstead and starring Laz Alonzo and Domenick Lombardozzi, it opened up some doors for the network to jump into the drama game. Breakout Kings premiered as A&E's highest rated original drama ever, and despite a loss in viewers during Season 2, it seemed like the show had enough of a niche audience to stick around for a bit longer.
Unfortunately, that is not to be the case. According to Deadline, Breakout Kings will not be returning for a third season of cons catching cons. Apparently executive producer and co-creater Olmstead has moved on to greener pastures, or at least what the producer hopes will be greener pastures. Olmstead has landed a new gig as showrunner on Dick Wolf's upcoming production Chicago Fire. Although it should be noted Olmstead's move is only a contributing factor to Breakout King's demise if you tack on lackluster ratings and a competitive Sunday night timeslot.
With Olmstead moving to NBC, the cancellation is likely a bigger loss to Breakout Kings' talented cast. Regardless, Laz Alonzo seems just the type to jump over a broom and land back on his feet. And besides, the ensemble cast was a perfect way to give Serinda Swan and one of my favorite people to watch onscreen, Jimmi Simpson (who even managed to make the bland role of the bad dudes in Date Night interesting), a little more exposure. I would guess there are good odds we hear some of these names pop up the next time pilot season rolls around.
Your Daily Blend of Entertainment News
Thank you for signing up to CinemaBlend. You will receive a verification email shortly.
There was a problem. Please refresh the page and try again.