Bridesmaids' Wendi McLendon-Covey Joins ABC's Only Fools And Horses Pilot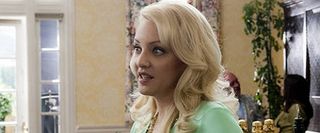 Bridesmaids star Wendi McLendon-Covey has moved on from her casting on the HBO pilot Viagra Diaries. The actress was let out of her contract there due to the departure from the pilot of star Goldie Hawn, leaving her free to be cast elsewhere. She made a fast recovery and has picked up a role in ABC's Only Fools and Horses pilot.
According to Deadline Wendi McLendon-Covey became a hot property when she left the HBO pilot due to the sudden decision (apparently mutual) of Goldie Hawn and HBO to drop her from the project and ABC seems to have won the race to secure her services. She has been cast in the pilot for Only Fools and Horses, a multi-camera comedy based on a successful British format. She will play the ex-wife of Del, who will be played by John Leguizamo. Apparently trading her engagement ring for a truck full of ostrich meat was grounds for divorce. As would it be in my house, I can tell you.
Leguizamo and his brother Rodney (Dustin Ybarra) are get-rich-quick schemers whose plots are off the wall and outrageous. They come by the scheming honestly, since apparently their father (Christopher Lloyd) is in on the plots.
McLendon-Covey is a former Reno 911 cast member and of course was part of the Bridesmaids cast, so she knows her way around comedy both big screen and small. She's joining a good cast here, and she must agree since she apparently chose this project out of five offers. No word on what she turned down.