British PM David Cameron To Appear On Letterman This Week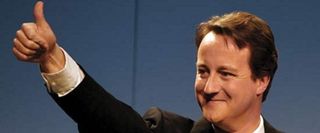 While it's become almost standard for American politicians to visit late night talk shows, it's quite a bit more unusual to see a British politician take a seat on the after-hours stage. In fact, it will be a first for Letterman this week when he welcomes as his guest British Prime Minister David Cameron. It marks the debut appearance for any sitting UK PM on an American late night talk show.
Cameron, according to Deadline, will pop by The Late Show With David Letterman on Wednesday night. The PM is in town as the keynote speaker for the U.N. General Assembly. The planned appearance has the British press wondering how Cameron will perform when faced with the American sense of humor; Letterman is known for asking some awkward questions. While American politicians can roll with the punches and take self-deprecating humor pretty well, the British are not quite so relaxed when it comes to a laugh at the expense of an important figure in government.
Of course, this move is a sign of the times. The Brits may not be quite so stiff anymore, and as British programming continues to soar in popularity Stateside with shows like Downton Abbey and numerous adaptations of British series over here, our funny bones might be slowly reaching a similar place. It might be the more serious questions that could catch Cameron off-guard, especially if Letterman brings up the current News Corp scandal, which will see several of Cameron's relatives testifying in court this week. Either way, it's a big move for David Cameron and sure to have people on both sides of the pond watching curiously to see how he does.
Late Show with David Letterman airs weeknights at 11:35 p.m. ET on CBS.
Your Daily Blend of Entertainment News
Thank you for signing up to CinemaBlend. You will receive a verification email shortly.
There was a problem. Please refresh the page and try again.