Broadway Legend Elaine Stritch Dies At 89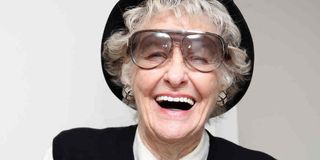 For generations, American actress and singer Elaine Stritch has brought her incorrigible attitude and sassy charms to theater, film and television, winning fans, acclaim and three Emmys. Today marks the end of an incredible career that has stretched 70 years. Elaine Stritch has passed away at age 89.
The New York Times reports Stritch died in her home in Birmingham, Michigan, where she moved only a year ago. Before that the celebrated comedienne famously lived for many years in Manhattan's Carlyle Hotel. But as she aged, she pondered moving back to her native state of Michigan. Much of this decision was detailed in her 2013 documentary Elaine Stritch: Shoot Me, which also followed her as she put on a one-woman show called "Singin' Sondheim … One Song at a Time" at age 87.
I had the pleasure of seeing Elaine Stritch: Shoot Me at the Tribeca Film Festival last year, and wrote of it, "This quick-witted comedienne will be remembered for being the badass broad who could make audiences laugh through the tears she's just made them shed. Elaine Stritch is a force of nature, and Elaine Stritch: Shoot Me is a glorious portrait of her in action."
You can (and should) watch Elaine Stritch: Shoot Me now on Netflix. But in case that's inconvenient, get a glimpse of this remarkable woman in the trailer below:
Elaine Stritch began her career on stage in 1944. She'd go on to appear in a long list of Broadway shows including Bus Stop, Who's Afraid of Virginia Woolf?, Company (twice), Show Boat, Elaine Stritch at Liberty and A Little Night Music. She earned four Tony nominations and won a Drama Desk award. In film, she made appearances in Cocoon: The Return, Cadillac Man, Krippendorf's Tribe, Small Time Crooks and lent her voice to the ghostly grandmother of ParaNorman. But nowadays Stritch might be best-known for her recurring role as Jack Donaghy's merciless mother Colleen on 30 Rock, a portrayal that earned her three Emmy nods, one win, and the adoration of a whole new generation.
Stritch is an idol for the outspoken. Her fearless and lust for life inspiring those she knew and those who just knew of her. But above all, she never seemed to take herself or celebrity too seriously. Remember when she dropped an f-bomb like a boss on Today while Kathie Lee rubbed her feet?
It seems impossible to say goodbye to this brassy broad who wove her way into pop culture and into our hearts. But to toast this lady who loved to drink as much as she did speaking her mind, we offer a video of Elaine Stritch performing the song she's most associated with, "Ladies Who Lunch," from Company.
Our thoughts are with Stritch's friends and family at this time.
Staff writer at CinemaBlend.
Your Daily Blend of Entertainment News
Thank you for signing up to CinemaBlend. You will receive a verification email shortly.
There was a problem. Please refresh the page and try again.