This Brooklyn Nine-Nine Highlight Tape Of Captain Holt's Insults Is Hilarious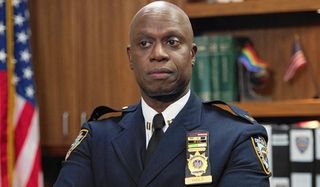 While there's no shortage of side-splitting absurdity on Brooklyn Nine-Nine, the police precinct's stolid overseer, Captain Raymond Holt (played by Andre Braugher) has managed to steal the spotlight with his hilarious, increasingly adversarial rapport with Kyra Sedgwick's Deputy Chief Madeline Wuntch. Check out this montage of Holt's perfect insults in the video below!
Brooklyn Nine-Nine's primary source of laughs comes from the juvenile jibes of Andy Samberg's Detective Jake Peralta, who regularly runs rhetorical and sometimes literal circles around his boss, represented by the typically button-down emotionless grimace of Braugher's Holt. While the character seemed to begin as a conventional uptight foil to the show's crazy characterss, it eventually became clear that there was way more to Holt than the stereotype-shattering fact that he's gay. However, as the curated clips from Great Videos demonstrate, his rivalry with Wuntch reveals a side of him that's quite vindictive and dark… at least in his own awkward, overly erudite way.
Madeline Wuntch first appeared early on in Brooklyn Nine-Nine's second season as a guest spot for Kyra Sedgwick, a veteran film actress and former long-term television law-enforcement personality on The Closer. The character was introduced as a face from Holt's past who seemed to have quite the chip on her shoulder, evidenced by her habitual abuse of her position's power to undermine his authority. While the rivalry appears to be professional, it turns out that much of the animosity stems from an incident when the gay Holt rejected Wuntch's romantic advances. Thus, the scorned superior has always gone out of her way to make life miserable for Holt, inspiring him to unleash an uncharacteristic array of insults whenever she appears.
Just as Cheers settled into a comfortable rhythm of having George Wendt's Norm Peterson utter some cleverly-crafted quip about his love of beer whenever he would walk into the bar, Brooklyn Nine-Nine has somehow gravitated to the immensely escalating diatribes that Holt uses to greet the equally clever Wuntch, who always has some kind of political machinations in the works designed to severely inconvenience Holt in his duties as Captain of the Nine-Nine. Wisecracks about Wuntch being a witch or the Devil, herself, referencing her cloven hooves and the birds that suddenly stop singing when she arrives might seem harsh to the uninitiated, but Wuntch deals out quite the stinging shots of her own; especially when some of the more corny, "so bad, they're good" lines directed at her have an oblivious Holt falling on his face.
To that point, Wuntch seemed to have the last laugh when she engineered a "promotion" for Holt that has essentially forced him out of his job as Captain of the Nine-Nine, resulting in the snarky, apathetic, but ultimately loyal assistant, Gina Linetti (Chelsea Peretti) to clear the contents of her desk into an office box and follow Holt out the door. The event, which served as the cliffhanger for Season 2, will yield a number of possibilities upon the show's return this fall; notably a new precinct captain and administrative assistant. While details on those roles remain a mystery, it seems that Holt and Gina will surface in the Department of Public Relations when Season 3 begins.
Brooklyn Nine-Nine will see Holt take the "Wuntch sounds like lunch" meme to further ironically hilarious heights when the show returns for Season 3 on September 27. You can check out the full fall schedule here.
Your Daily Blend of Entertainment News