CBS Comedy Friend Me Casts Female Lead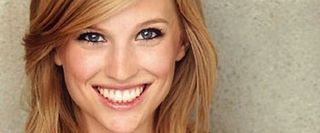 Headed to CBS next year is Friend Me, a midseason buddy comedy about two twenty somethings who move from Indiana to Los Angeles to start new jobs. The series already has two familiar faces set to star and a few other male characters on board. Now it looks like they have their female lead.
Already set to star in Alan Kirschenbaum and Ajay Sahgal's Friend Me is Nicholas Braun (Red State, 10 Things I Hate About You - the TV series), and Christopher Mintz-Plasse (Superbad, Kick-Ass), who will play best friends Rob and Evan, two guys who move to Los Angeles to start new jobs. Rob (Braun) is the social one, while Evan (Mintz-Plasse) is more comfortable hanging out at home in his underwear, chatting online or playing poker with his buddies. Joining them in the CBS comedy is Amanda Lund, who's set to play the female lead. According to Deadline, Lund will play the part of Amanda Baxter, who's described as upbeat and socially awkward. She's new to Los Angeles, has recently broken up with someone and is looking to move on with her life. "Working for a caterer with dreams one day to be a chef, she finds the first friends of her new life in her neighbors Rob and Evan." Is she the potential love interest for Rob and Evan? Seems like a possibility.
As Deadline notes, with the number of male characters in the multi-camera comedy, and now the adorable blonde joining the bunch, it sounds like there's a sort of Big Bang Theory dynamic happening here. But given the success of that series, which just so happens to be at CBS, I'm sure that's not a bad thing.
Lund's credits include an episode of the ABC comedy Man Up, and Entry Level, the Nick Stoller pilot CBS passed on.