CBS Cuts We Are Men, Bumps Up Mike & Molly Premiere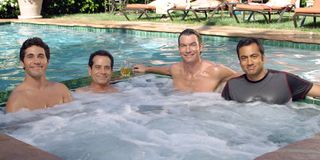 CBS' Monday night comedy We Are Men has some multigenerational talent going for it, with Tony Shaloub, Kal Penn, Jerry O'Connell, and Chris Smith playing the leads. With a Monday night schedule featuring both Two Broke Girls and How I Met Your Mother, We Are Men has had a relatively cushy timeslot, but it really hasn't managed to impress in the ratings. On Wednesday, CBS announced that effective immediately, We Are Men has been pulled from the schedule.
For some reason, CBS is always hesitant to say "cancelled" when the network cancels a show. Last year, when Made in Jersey was taken out of its slot, CBS pulled the same nonsense, but then the show was brought back later in the season for a Saturday release, so maybe the network feels like burning off the already-shot episodes counts as something other than a cancellation? It's pretty weird, and you should proceed watching TV on Monday nights as if We Are Men is not coming back. CBS is typically known for dropping at least one program early, but this year the first cancellation of the season goes to ABC's Lucky 7. ABC should be so proud.
Obviously, if Shaloub and co. aren't coming back, another show needs to fill its slot. CBS only has one substantial returning comedy slated for midseason, and now it has been bumped up even sooner. The network has decided that Mike & Molly will now hit the schedule on November 4, airing in the 9 p.m. ET timeslot.
It might seem a little confusing that Mike & Molly won't hit the schedule until November, especially since I noted We Are Men has been pulled, effective immediately, but CBS has a contingency plan, and that contingency plan revolves around The Big Bang Theory. For the next two weeks, CBS will air reruns of The Big Bang Theory at 9 p.m. Presumably, the network is hoping using that show as a lead-in might help Mom, which has aired to middling ratings in the 9:30 p.m. ET slot. We'll have to wait and see if that theory works out.
In the meantime, I'm going to keep my eyes on the ratings for Hostages, which has also aired on Monday nights and has also not been attracting too many eyeballs. In fact, last week Hostages did worse in total viewers than We Are Men (5.22 million total viewers for the drama and 5.41 million for the comedy). I wouldn't be shocked if CBS opted to cancel, err, pull that program from the schedule, too.
So, to recap, next week fans will get How I Met Your Mother at 8 p.m. ET, Two Broke Girls at 8:30 p.m. ET, a Big Bang Theory rerun at 9 p.m. ET, Mom at 9:30 p.m. ET, and Hostages at 10 p.m. ET. Set your DVRs accordingly.
Amazing Race & Top Chef superfan with a pinch of Disney fairy dust thrown in. If you've created a rom-com I've probably watched it.