Made In Jersey Resurrected For At Least Two Saturday Night Episodes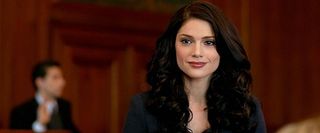 One of the first new shows to be cancelled this season is getting a resurrection. CBS' legal drama about an underdog Jersey girl attorney in a Manhattan firm, Made in Jersey, will be airing once again. After only two episodes aired to low ratings on Friday nights, CBS pulled the plug. Now they're bringing it back to life with a Saturday evening time slot, instead.
Of course, I wouldn't count on the resuscitation effort to be a long-lasting one. Made in Jersey follows in the unsuccessful footsteps of another CBS show, How to Be a Gentleman. Last fall, the network pulled the freshman comedy after only two episodes, bringing it back for an even less impressive run on Saturdays – it aired only one episode in that slot before CBS pulled the plug again, this time for good.
Made in Jersey won the unfortunate distinction of being the first show cancelled of the fall crop in early October. The series stars Janet Montgomery as a working class lawyer from New Jersey who takes a job in an upscale Manhattan law firm and uses her street smarts to prove herself against her wealthier and more privileged co-workers. The show was in a tough spot from the start. Friday nights are always iffy, especially for a new show, and not a particularly promising show to begin with, in my opinion.
Today however, Deadline is stating CBS has slotted the show to air new episodes on Saturdays, beginning with two episodes on November 24th and December 1st at 8 p.m. ET. If you're one of the few who actually saw the show and liked it, you're guaranteed at least two more episodes of the show. But don't get too excited; I suspect it will take a ratings miracle to permanently save Made in Jersey.