CBS Picks Up Bake Off Competition Series To Air In 2013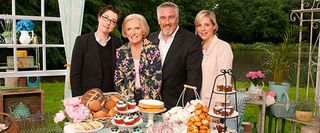 There have been a few stabs at baking competition shows on cable networks, but none of them have done big time traffic. Now, the network that routinely crushes during primetime, CBS, is taking a stab at a baking competition show that will be based on the U.K. series The Great British Bake Off.
Obviously, CBS won't be able to stick with the same title and thus has renamed the series Bake Off. According to Deadline, CBS has given a very rare straight to series order for the program, which will be executive produced by Richard McKerrow, the guy behind The Great British Bake Off. Bake Off is set to go in production soon, with the aim to air next year.
Cupcake Wars is probably the most successful baking series I can think of off the top of my head (Although, by all means, if you know a better one, let us know in the comments!), however, Bake Off sounds a little closer to Top Chef: Just Desserts. In the series, amateur American bakers will go through different competitions and will be asked to create many varying kinds of baked goods. Whoever is left standing after multiple challenges will be declared the winner. As Audrey Hepburn knows, it's the soufflé that will get you.
While I'm still a little skeptical a baking-oriented program can work on a major network, apparently Bake Off has crushed in other places. It already does over 6 million viewers in the U.K. and has been picked up by many other countries, including Sweden and Denmark. I should probably keep my skepticism inside until the show actually airs.
Amazing Race & Top Chef superfan with a pinch of Disney fairy dust thrown in. If you've created a rom-com I've probably watched it.
Your Daily Blend of Entertainment News
Thank you for signing up to CinemaBlend. You will receive a verification email shortly.
There was a problem. Please refresh the page and try again.