The CW Remaking '80s TV Cult Classic Beauty And The Beast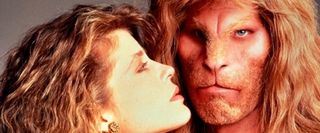 For most folks, the words "Beauty and the Beast" conjures up memories of the beloved Disney film, full of gruff beasts, literature loving maidens, and singing furniture. Or maybe your associations roll back further, to memories of your parents or grandparents reading you fairy tales when you were a wee sprout. For some of us who grew up in the '80s and early '90s, however, "Beauty and the Beast" instead brings to mind memories of sewer dwellers and the lady from Terminator and Ron Perlman as a tender-hearted monster named Vincent.
I speak, of course, of the cult classic Beauty and the Beast TV series, which ran for three seasons beginning in 1987. Created by Ron Koslow, Beauty and the Beast cast Linda Hamilton as its beauty, an assistant New York district attorney named Catherine. After being beaten and left for dead in Central Park, Catherine is rescued by the mysterious half-man/half-beast named Vincent, and soon discovers his home: a sprawling secret culture living beneath the surface in the city's sewers and tunnels. The series follows the blossoming romance between Vincent and Catherine, and features a theme song that still makes me choke up just a little at the sound of it. It's a great little slice of awesome that most people younger than me have probably never heard of.
Which, naturally, means it's time to remake it. On, even more naturally, The CW. Yes, TVLine has landed the scoop that CBS Television Studios is teaming with The CW for a new remake of the '80s series. There aren't many details on this new version, except that it will apparently be adding "a procedural twist." So expect to see Vincent as part of an underground team of forensic investigators that operate out of the sewers. At any rate, the script will be written by Jennifer Levin (Without a Trace) and Sherri Cooper (Brothers & Sisters).
Who knows, maybe it will surprise me pleasantly, but I'm expecting this one to end up less Beauty and the Beast, more Beastly.
Your Daily Blend of Entertainment News
Thank you for signing up to CinemaBlend. You will receive a verification email shortly.
There was a problem. Please refresh the page and try again.