Call The Midwife: Season 1 [Blu-ray Review]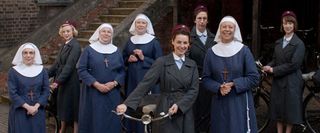 Call the Midwife: Season One is a story about women, for women. Narrated by Vanessa Redgrave, the series follows an older, wizened lady recalling her experiences working as a young midwife in the slums of London in the late 1950s, just a few years after Britain instituted the National Health Service. It's not a story for the fainthearted, yet it is a story of struggle and survival and, most of all, overcoming odds.
One of the first pregnant women we meet has birthed 24 babies, though she looks to be in her thirties. She was brought to Britain by her husband when she was roughly 14, and had been churning out children ever since. When we meet her, however, her most recent pregnancy is not going so smoothly, and the family fears for the mother's life. Call the Midwife is rife with problem stories of this ilk, but it's also a story about small miracles, made all the more clear with the series' religious overtones.
Religion makes itself apparent, not only in the setting of the story, but also in many of the characters backgrounds and lifestyles. When Jenny Lee (Jessica Raine) joins a group of midwives, she doesn't realize she is also effectively joining the living corridors of a nunnery, a convent made up of several laywomen nurses (played by Miranda Hart, Helen George, and Bryony Hannah) and several more sisters (Jenny Agutter, Pam Ferris) who are also trained to bring babies into the world. Religion clearly plays a large role for townsfolk in post WWII Britain, and the series provides a strong example of how science and religion can complement one another, and don't need to be opposing forces—not a theory I agree with, but one that does give Season 1 a nice symmetry.
Unfortunately, not all of the episodes are quite so seamless. Originally created for a UK audience, Season 1 only runs for six episodes, which theoretically should give the writers space and time to create a tight but expressive narrative. Jenny Lee is the narrator and the lead in the series, but the plot nearly as often dithers off and realigns the focus of the episode on the show's side characters. With more than a half dozen central characters, the show disproportionately divides its screen time, giving audiences some deep, well-rounded characters and others who don't quite take flight.
The series struggles least when it gives Hart extra screentime. The British comedienne's character, Chummy Browne, offers a fresh perspective among some of the show's stock characters. Introduced in the second episode, Chummy is neither strong-willed nor overly confident, but she does manage to make the best of nearly every situation, and does so with mirth and a pocket full of jokes (and sometimes condoms). Call the Midwife is a story of check-ups, pregnancy complications, substandard living conditions, malnourishment, and sometimes the dead and dying. It needs a Chummy, and it's fairly clear the series is better for having found that character in Hart.
It also looks great, onscreen. The Blu-ray is shot in standard High Definition, but the lighting is especially impressive, considering a good chunk of the series focuses on nighttime deliveries, shot in poorly lit tenement housing and other dark corners. The convent itself is not a particularly cozy space, and the streets are often grey, yet the picture always manages to feel comfortably lit and warm.
The set also features, "Wimples, Babies & Bicycles," a behind-the-scenes segment that discusses the characters in the show, but also the historical background of the series. It's a short segment that might throw audiences off a little, due to the actresses' discussing the series from a personal perspective while still referring to themselves and the other actresses by their character names. It's really bizarre, and it's also a bummer that Jennifer Worth, who wrote the book the series is based on, passed away just before the series was produced for the BBC. It would have been great to be privy to her perspective and witticisms concerning the televised story and its characters.
Call the Midwife isn't a perfect series, but it is compelling, even when it deals with tough pregnancies and other disheartening storylines. Somewhat antiquated medical service aside, Call the Midwife forges relationships between a group of young people and their older mentors, friendships and relationships that are refreshing in their strength and solidarity, and lessons that are very applicable in a modern setting.
Rating:

?
?
Length: 355 minutes
Distributor: BBC Home Entertainment
Release Date: 11/06/2012
Starring: Jessica Raine, Miranda Hart, Pam Ferris, Jenny Agutter
Directed by: Philippa Lowthorpe, Jamie Payne, Roger Goldby
Created by: Heidi Thomas
Reality TV fan with a pinch of Disney fairy dust thrown in. Theme park junkie. If you've created a rom-com I've probably watched it.
Your Daily Blend of Entertainment News
Thank you for signing up to CinemaBlend. You will receive a verification email shortly.
There was a problem. Please refresh the page and try again.