Carly Pope Clocks Into 24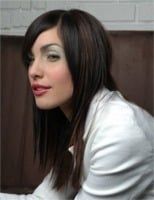 Carly Pope is the latest to clock in on Fox's 24. The 27-year-old actress will play Samantha Roth, the girlfriend of the president's (Cherry Jones) son. Word has it she might be connected to his disappearance, according to a Hollywood Reporter story.
Pope also co-stars on the FX drama Dirt as Garbo. In theaters, she recently appeared in
[[ itty bitty committee ]] <="" i="" titty="">, Beneath, and Young People Fu**king, which premiered at the 2007 Toronto International Film Festival.
The real-time thriller 24 will be set in Washington, D.C. for its much-awaited 7th season, which began shooting in September. Recent additions to the cast include Janeane Garofalo, Colm Feore, Jeffrey Nordling, Annie Wersching, and Bob Gunton.
Created by Joel Surnow and Robert Cochran, the fan fave is a production of Real Time Productions and Imagine Television in association with 20th Century Fox Television. Joel Surnow, Robert Cochran, Howard Gordon, Evan Katz, Jon Cassar, Manny Coto, Kiefer Sutherland and Brian Grazer are the executive producers.
Your Daily Blend of Entertainment News
Thank you for signing up to CinemaBlend. You will receive a verification email shortly.
There was a problem. Please refresh the page and try again.