Carnivale's Clea Duvall Confirmed For American Horror Story's Second Season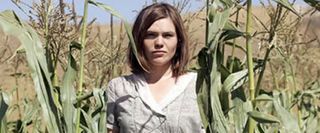 It's getting a little bit ridiculous to try and connect the dots between all of the actors and actresses gearing up to appear on Season 2 of FX's American Horror Story. After killing off much of its cast during Season 1, the hit thriller needed to revamp its plotlines a bit and figure out how to reinvent some of its characters to keep them in the cast. Instead of being set in the present day, executive producer Ryan Murphy is setting Season 2 in 1964, and Jessica Lange's character will be running an insane asylum.
There are a lot of people needed to make an insane asylum seem realistic, and the show has already added Chloe Sevigny, Maroon 5's Adam Levine, James Cromwell, Chris Zylka, Lizzie Brochere, and Joseph Fiennes to the show's already stacked returning cast. Now, Carnivale's Clea Duvall has also earned a multi-episode arc on the creepy show.
Duvall is no stranger to creepy plots and premises. On HBO's Carnivale, she played a tarot reading carnie who was occasionally under the influence of evil. There's no news on exactly what sort of character Duvall will play on American Horror Story, but according to TV Line, the multiple episode gig will pit Duvall in several scenes with returning actress Sarah Paulson. While it is obviously a little early to call it, I wouldn't be surprised to see Duvall as an inmate come fall. TV Blend will keep you posted on any more casting news and spoilers for FX's hit show as they waft our way.
Your Daily Blend of Entertainment News
Thank you for signing up to CinemaBlend. You will receive a verification email shortly.
There was a problem. Please refresh the page and try again.