In Case You Missed It: Performances From The 2008 Grammy Awards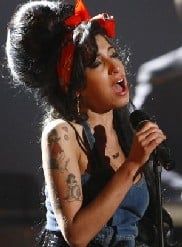 The Grammys used to be an award show that I never watched, mainly because I didn't care about any of the acts that were winning awards. Plus, as an awards show, The Grammys aren't as ridiculous as the MTV Music Awards or as drunk as the Golden Globes, which pretty much makes it a snooze-fest in my book. I happened to catch last year's show, however, and was really impressed with the performances (the one with John Mayer, John Legend and Corinne Bailey Rae comes to mind) that I thought it may be time to give the venerable awards show another chance. Unfortunately, I completely forgot it was on last night, so I missed the entire thing.
So if you're like me and missed the show entirely or just want to see Tina Turner again, I've found some of last night's performances and have posted them below for your viewing pleasure.
Here's Beyonce and Tina Turner with performing "What's Love Got To Do With It?", "You've Gotta Be Good To Me" and "Proud Mary":
Amy Winehouse singing "You Know I'm No Good" and "Rehab" live via satellite from London:
Carrie Underwood performing "Before He Cheats" with…Stomp?:
Kanye West performing "Stronger" and "Hey Mama" in an emotional tribute to his late mother:
Alicia Keys and John Mayer performing "No One":
What was your favorite performance of the night? Did anybody really miss the mark? Post your thoughts below.
Your Daily Blend of Entertainment News
Your Daily Blend of Entertainment News
Thank you for signing up to CinemaBlend. You will receive a verification email shortly.
There was a problem. Please refresh the page and try again.