Charlie Day, Emma Stone And Jason Segel Set To Host Saturday Night Live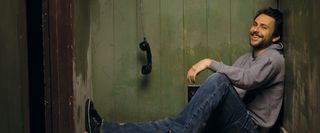 While we're in for reruns of Saturday Night Live for the next few weeks, SNL is making it up to us with a host that's proven to be extremely funny. Charlie Day is on board to host the next new episode of the sketch comedy series, which airs early November.
Those of you who watch FX's It's Always Sunny in Philadelphia will be well familiar with Charlie Day's sense of humor. Whether or not it proves to be a good fit on Saturday Night Live remains to be seen. And if you don't watch Sunny, which I recommend you do, You may have seen Day in Horrible Bosses or one of my personal favorite recent romcoms, Going the Distance, which, incidentally, also starred SNL star Jason Sudeikis. Worlds collide!
?Joining Day as the musical guest is Maroon 5, marking their third appearance on the series. This episode will air on November 5th.
Later down the line, SNL has Emma Stone on board to return for her second appearance on November 12th. The Amazing Spider-Man star will be joind by Coldplay.
Finally, Muppets star Jason Segel will appear on November 19th, with Florence + the Machine performing. I expect musical numbers and at least one surprise Muppet appearance. It wouldn't be the first time Muppets appeared on the series. A set of lesser known Muppets were once a regular part of SNL, back in the series' first season. I guess it wasn't a good fit, because they did not return after Season 1. Maybe it's just me but these "Land of Gorch" Muppets look like they were Dark Crystal-creepy. I'm really only basing this opinion on the following sketch, which is sweet, but the Muppet featured isn't quite the adorable furry Kermitty kind of Muppet most of us are used to...
Your Daily Blend of Entertainment News
Thank you for signing up to CinemaBlend. You will receive a verification email shortly.
There was a problem. Please refresh the page and try again.