Chris Meloni Confirmed To Join True Blood As A Series Regular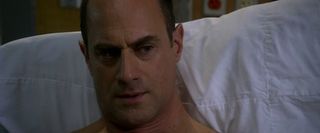 Late last month, rumor had it that Law & Order: SVU's Chris Meloni was in talks to play a major role in True Blood's fifth season. The rumor has since been confirmed and fans of his might want to start imagining him in fangs in preparation for seeing him in the HBO vampire drama.
We shared the rumor last month that Meloni was "being courted" to play the part of a powerful vampire in True Blood for Season 5. Entertainment Weekly has confirmed that Meloni is set to be a series regular, playing "an ancient powerful vampire who holds the fate of Bill and Eric in his hands."
Hearing that, it's hard not to wonder if Meloni's character is directly related to that excellent moment last season when Bill and Eric promptly destroyed Nan Flanagan (former spokesperson for the American Vampire League). Is Meloni playing the vampire that rises up to fill Nan's fangs or, to present whatever repercussions may be in store for Eric and Bill? Regardless, someone should probably warn him not to drop threats about Sookie in the presents of Bill and Eric. Bad call, Nan.
True Blood doesn't have an official premiere date for Season 5, but at this point we can probably expect the series to return June 2012.
Your Daily Blend of Entertainment News
Thank you for signing up to CinemaBlend. You will receive a verification email shortly.
There was a problem. Please refresh the page and try again.