The Clan Of The Cave Bear Is Dead In The Water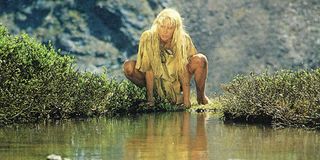 TV shows based on movies, books, former TV shows and comics are all the rage right now, but some of these projects are having better luck then others. In development for more than a year, Lifetime has decided not to pursue a series based on the popular The Clan of the Cave Bear novel by Jean M. Auel. However, it's apparently not being cut for the reason you would think.
Reports this week indicate that The Clan of the Cave Bear will not be moving forward to series, but not because there were problems the TV pilot starring Millie Brady, issues with the creative team or even because there were budget issues—all frequent offenders when it comes to pilots that don't end up moving forward to series. Instead, THR is reporting that Lifetime and the Clan of the Cave Bear parent company Fox 21 couldn't get on the same page about how many episodes of the drama there needed to be. That's such a bizarre reason, I honestly can't believe I just typed it.
Honestly, if the two parties were on such opposite pages that the episode count ended up being the straw that broke the camel's back, that would probably have been a really bad TV marriage overall. Still, Auel's famous Earth's Children novels have attracted many readers over the years, and a lot of them seemed genuinely excited about the possibility of a cable series. The books, after all, have sold more than 60 million copies worldwide. This wasn't a remake of a book that people were begrudging, unlike the reboot of Coach and other projects which seemed like disasters from the start.
Lifetime has been making bold steps to change its image over the last couple of years. We've seen the changes in cheeky made-for-TV movies like A Deadly Adoption starring Kristen Wiig and Will Ferrell, biopics like Whitney starring YaYa DeCosta and fun, silly unauthorized biographies of popular 90's TV shows, including The Unauthorized Full House Story. The Clan of the Cave was another splashy new project that was expected to hit the schedule in 2015, but that's definitely no longer happening.
I guess we'll all just have to pull out our old VHS copies of The Clan of Cave Bear starring Darryl Hannah and lament the TV series that almost was, than wasn't.
The Clan of the Cave Bear was the big drama project the network had in the works, but we'll let you know if Lifetime decides to add any more new dramas to its programming slate. For now, new seasons of Devious Maids and UnReal are headed to the schedule soon-ish.
Amazing Race & Top Chef superfan with a pinch of Disney fairy dust thrown in. If you've created a rom-com I've probably watched it.