Devious Maids Renewed For Season 4 By Lifetime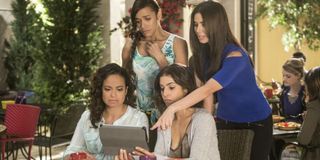 The third season of Lifetime's series Devious Maids ended with a literal bang a month ago, and fans can rest assured that they will find out what happens in the aftermath of that season finale explosion very soon, because the telenovela-inspired drama was picked up for a fourth season.
Lifetime has ordered 10 more episodes of the murder-filled soap, which is 3 less than its past seasons. The catty dramedy will continue next year.
The announcement is a big deal for Lifetime, a network that historically hasn't found success in scripted shows. In fact, Devious Maids and the recently renewed freshman hit UnREAL are the only two scripted series on the network. With these two series, it looks like Lifetime has finally found a sweet spot for female-targeted television that is also edgy and takes its viewers seriously. With more shows like these, maybe a Lifetime streaming service could actually be a worthwhile purchase.
The series, which ABC passed on, has helped legitimize Lifetime as a network among fellow cable channels producing scripted original series. The weekly drama picked Lifetime up to a number 2 network on Monday nights in the 9-10 pm time period in its major demographics. The success of the show owes a lot to its socially engaged audience, or the #DeviousArmy as they refer to themselves, that have helped make the show such a success. The scandalous lives of Marisol (Ana Ortiz), Zoila (Judy Reyes), Rosie (Dania Ramirez), and Carmen (Roselyn Sanchez) are tweeted, discussed, memed, GIFed, and hashtagged with a passion by the loyal fanbase each week.
The show, which is helmed by the minds behind the similarly salacious success Desperate Housewives, Marc Cherry and Eva Longoria, employs a different murder mystery each season, each more complex and shocking than the last. It was inspired by the telenovela Ellas son… la alegría del hogar, and keeps the spirit alive by focusing on Latina characters.
Each season ends with a cliffhanger, and Season 3 was no exception! The audience finally got the answers to who was behind all those murders (and got to hilariously see Susan Lucci pry open an elevator door), but were still left wanting more at the end!
We last left our ladies discovering that Carmen's fiancé Sebastien was behind the death of fellow maid Blanca (Naya Rivera), and watched him kill Michael as well. Thankfully, Marisol is able to take Sebastien by surprise and knock him down, and everyone escapes the Powell house safely. Everyone, that is, except for Adrian, played by Tom Irwin, who goes back in for a family picture. In the final scene, Sebastien lights a spark that causes the gas-filled home to explode.
So what does the next season of Devious Maids have in store? We have no idea, but we do know that we will be on the edge of our seats eating up every second of the delicious drama!
Your Daily Blend of Entertainment News