The Clicker Gets Fed Up With Network Television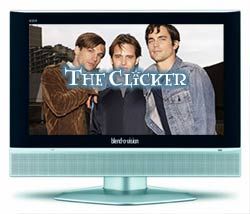 In less than a week, those of us who have been waiting for years to find out how the Harry Potter series will end will finally have all of the answers. Whether Harry lives or dies, we'll know how the story ends. After the sixth book was released, we all knew that it could be years before the final installment of the hugely popular series was released but I don't think any of us doubted that we would some day get that final book. Wouldn't it be nice if TV shows were just as reliable? Are any of you as tired as I am of getting into a serial drama only to have it cancelled mid-story?
I was catching up on the most recent episode of the ABC drama, 'Traveler' when I decided to check into the status of the show. Apparently, next week's episode will be the season finale for the series. I guess in the world of ABC summer programming, 8 episodes constitutes a full season. The show's ratings haven't done well since it began airing which could be due to the network airing the series at 10:00 p.m. on Wednesday night. Instead of putting 'Traveler' on a bit earlier, the network decided to fill the 8:00 p.m. timeslot with the virtually un-watchable show about celebrity impersonators, 'The Next Best Thing.' We can assume ABC thought putting 'Traveler' in 'Lost's' timeslot would've helped the show gain an audience. Apparently not. Regardless, "season 1" of 'Traveler' will end this Wednesday and as far as I've been able to tell, the network has no current plans to pick the series up for another season. So that's it? We've gotten eight episodes of what is actually a pretty entertaining action-drama series and the network drops it on us. Thanks a lot, ABC.
ABC is by no means the only network that's done this to its viewers. Fox cancelled 'Drive' after only a couple of episodes and NBC dropped 'The Black Donnellys' and 'Studio 60 On The Sunset Strip' despite the series' loyal fans' pleas. CBS was generous enough to give 'Jericho' another shot after they'd initially planned to cancel it. In that case, fans sent letters and cans of nuts to the network, demanding another season. Instances like that are pretty rare though. No amount of candy bars sent to network headquarters would've been enough to get The CW to pick up 'Veronica Mars' for another season. Time and again, fans are being disappointed by the networks insistence on putting ratings (and dollars) above their viewers. It's enough to make a person stop watching network television entirely.
The premature cancellation of serial dramas in TV today is becoming somewhat of an epidemic and I'm beginning to wonder if it's even worth it to invest any more of my time in these types of shows. Serial dramas require a fair amount of commitment on the viewers' part. You can't just tune in to a serial drama once in a while and expect to be able to follow the story. Viewers invest their time in these shows, hoping to watch a good story unfold. Wondering what is going to happen next is the main reason we make it a point to tune in week after week.
We're willing to be patient as the writers deliver new mysteries and character developments at a slow pace because we know eventually there will be a pay-off. So when the network drops a show before the story is complete, we're left with a sense of dissatisfaction and feeling as though our time has been wasted. Granted, the cancelled show provided an hour of entertainment each week but having the series ripped out from under us without any kind of real conclusion is a major let-down. Imagine if they did that with movies. You're sitting in a theater watching a great drama and then 20 minutes before the movie is supposed to end, the screen cuts to black. Instead of credits there's a note from the studio in scrolling text saying, "Sorry, we decided not to invest any more money in this movie but please come back next week for a new movie we may or may not finish." That would obviously never fly so why are TV networks allowed to do it?
Maybe the networks should stop producing so many of these shows if they don't plan to deliver at least a whole season or allow the writers to wrap up the story before cancellation. Chances are, only one or two of the new dramas set to premiere this fall will likely go on to be the next big hit. While some wont be worth watching at all, others might actually be decent but it won't matter to the networks if those shows don't get great ratings.
Perhaps rather than producing so many new serial dramas, the networks might consider airing miniseries instead. Miniseries are intentionally short-lived and the stories are guaranteed to be resolved. Then, if there's a miniseries that does exceptionally well in the ratings, the network can decide to pick it up as a full series. The re-imagined version of 'Battlestar Galactica' started out as a miniseries. The Scifi network picked it up for a full series afterwards and the show will go on to its fourth and final season next year. Because the writers know this will be the last season, they have the opportunity to finish up the series properly. I just wish the same were the case for many of the other shows that have been cancelled too soon.
So what say you, readers? Are you as tired as I am of wasting your time watching drama series that are cancelled before the story is complete? Do you think the networks should stop airing these types of shows if they're not going to see them through to some kind of actual ending? Are miniseries the solution?
What to Watch (7/15 to 7/21)
Big Brother (CBS) 8:00 pm
(New!) Jen nominates two of the houseguests for eviction.
Entourage (HBO) 10:00 pm
The Dream Team - (New!) The Medellin trailer turns up on the internet and Billy is NOT happy about it. Meanwhile, Lloyd and Ari work to get Vince's next movie role.
Flight Of The Conchords (HBO) 10:30 pm
Sally Returns - (New!) Jermaine encounters Sally again while Murray comes up with a new way to make some cash.
'Hell's Kitchen' (Fox) 9:00 pm
(New!) – Melissa and her soul patch are gone so that leaves only six contestants left. Will Rock manage to keep his cool this week if his team loses the challenge again?
'Greek' (ABC Family) 9:00 pm
Hazed and Confused (New!) – Last week this dramedy premiered, introducing us to a bunch of college students as they make their way through the Greek system on campus. This show is actually pretty funny. If you missed the pilot, its probably still available to download for free on iTunes.
'America's Got Talent' (NBC) 8:00 pm
Performance Episode - (new!) – The top 20 acts perform.
'Big Brother 8' (CBS) 9:00 pm
(new!) – The two nominees (feed-watchers know who they are!) have the chance to play for the Veto (we already know who won) and decide if they'll use to take themselves or someone else off the block (they probably will).
So You Think You Can Dance(FOX) 8:00 pm
(New!) – The final 12 dancers perform.
Don't Forget The Lyrics!(FOX) 9:30 pm
(New!) – Did anyone catch this show last week? Was it any better than 'Singing Bee'?
'Big Brother 8' (CBS) 8:00 pm
Live Episode (new!) – One of the houseguests is evicted and a new Head of Household is crowned.
'So You Think You Can Dance' (FOX) 9:00 pm
Results (new!) – Enrique Iglesias performs and two dancers are eliminated.
Set For Life(ABC) 8:00 pm
Premiere (New!) – If you're not waiting in line for the new Harry Potter book, check out this new game show where contestants aim to win paychecks that could last for the rest of their life.
Wonderful World of Disney: The Princess Diaries (ABC) 8:00 pm
I can't help but love this movie. I think most girls would've probably loved to find out that their long-lost daddy was a prince and that they're about to inherit the throne. This movie put Anne Hathaway on the map and is actually quite charming if you have nothing better to do on a Saturday night.
__________________________________________
Do you an idea for a column or just something to say? Scroll down and leave a comment!
Kelly joined CinemaBlend as a freelance TV news writer in 2006 and went on to serve as the site's TV Editor before moving over to other roles on the site. At present, she's an Assistant Managing Editor who spends much of her time brainstorming and editing feature content on the site.
Your Daily Blend of Entertainment News
Thank you for signing up to CinemaBlend. You will receive a verification email shortly.
There was a problem. Please refresh the page and try again.