The Clicker Thinks The CW Failed Veronica Mars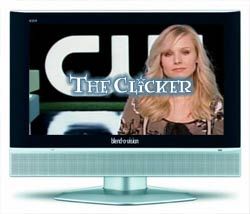 I don't do rants. Generally, I leave the tirades of frustration and disappointment to Mack, one of our columnists and the resident asshole here at TV Blend (titled with affection, of course). But I can't help but express my extreme disappointment in The CW for canceling 'Veronica Mars.' Since the final season of the series will wind to a close this week, it looks as though I wont have many more chances to write about the show as a current part of our TV viewing pleasure. After next week, references to the series will go the way of 'My So Called Life,' 'Freaks and Geeks,' and all of the other great TV series that were cancelled before their time and now exist only in our memories (and on DVD).
I'm bitter that the show was cancelled but I'm going to put those emotions aside as much as possible here because my problem with The CW extends much further than them giving 'Mars' the boot prematurely. The CW failed 'Veronica Mars' long before they cancelled it. The bulk of the responsibility of putting out a solid TV series falls into the hands of the writers, directors, producers and actors. It's the network's job to get people to watch the show. If they don't draw in the viewers, the ratings will suck and the show will get cancelled.
I have to wonder how many people started watching 'Mars' due to UPN and The CW's promotions for the show. Was there something about the way the networks advertised it that drew viewers in or did they find 'Mars' some other way? Up until last spring, just after the second season finale aired, my impression of 'Mars,' having never seen an episode, was that it had something to do with a girl from space. That might sound ridiculous but because I rarely watched UPN and therefore, never saw an ad for the show, I based my opinion of the series on the title alone. To those of you who've never seen it, 'Veronica Mars' is about a girl who moonlights as a private detective. She's not from space and has no super powers (other than her quick wit and a fantastic knack for being a smart-ass).
Word of mouth is what got me hooked on 'Veronica Mars.' A friend of mine, whose opinions on TV shows generally mirror my own, convinced me to watch and after viewing the pilot episode, I was immediately on board. I got caught up on the first two seasons over the summer and started watching season 3 when it began airing on the new CW network. Since then, I've gotten a few other friends to watch the pilot episode of 'Mars,' and like me, they fell in love with the show instantly. Most of the people I know who watch the show got into it because someone else convinced them to watch.
When I started watching the series as it aired on The CW, the first thing that struck me as odd was the commercials that aired during the episodes. At the beginning of the season they had these ridiculous ads featuring the "Aerie Girls." The girls sat around in pajamas gossiping about the romances on 'Veronica Mars' and talking about their own personal experiences with love and relationships. These girls couldn't have been much older than 15. I remember thinking, "What the hell is this? Why is The CW filling their advertising space with ads targeting tweens? Don't they know their audience?"
The annoying Aerie girls were phased out after the first few episodes but still, the promotions for 'Mars' made the series look like a shallow soapy teen fluff show. They focused heavily on the drama and romance aspect and left out everything else that made 'Mars' stand out as series.
Each new episode of the third season was filled with great mysteries, hilarious banter and clever pop culture references, yet none of this seemed to make it into the promotions. As a 29 year old, had I never seen an episode of the series, there is no way that these promos would've enticed me to watch the show. Based on the dwindling ratings over the course of the third season, it seemed to me that not only were the promos not appealing to adults, but any of the young people tuning in with the hopes of seeing an 'OC' type show were probably left disappointed and unwilling to tune in the following week.
Basically, The CW was trying to sell the show to the wrong audience. They were asking young teenagers to tune in when there were plenty of adults out there who would've loved the series had they realized what it had to offer. Adults like mysteries. Adults like silly references to The Big Lebowski and 'Battlestar Galactica'. Adults like intelligent, complex characters with real emotions and compelling story arcs. This is not to say that teenagers don't like these things but when you have a show that has all of the ingredients to appeal to the key demographic of TV viewers (people ages 18-35), why would you intentionally undersell it?
It seems to me that either The CW is dead set on targeting a younger audience, or in the case of 'Veronica Mars,' they simply did not realize the potential they had to draw viewers away from the "big" networks. The network's decision to drop the beloved 'Gilmore Girls' along with 'Mars' this year makes me wonder about the direction the network is headed in.
Cries for 'Mars' to be saved for another season could be heard all over the internet this spring but apparently they fell on deaf ears. The CW, as a "new" network, should recognize the value of loyal viewers. 'Veronica Mars' was the only show I watched regularly on The CW and now that it's gone, I have no reason to tune in. I'll buy the third season on DVD and keep an eye out for new projects that Rob Thomas has a hand in because when it comes to putting out a solid TV show, that guy really knows what he's doing. But as of 10 pm on Tuesday, the CW will have nothing left to offer me for the time being.
The above said, I wouldn't go as far as to say I'm boycotting the network. It would be foolish of me to make such a claim and my love for Kevin Smith's work is enough to get me to watch the first episode of 'Reaper' when it premieres this fall. It just irritates me when a network shows no regard for the people who do tune in to watch their shows regularly. Not every TV series is going to be a ratings winner but when it's a quality show, it falls on the network to find a way to get viewers to tune in. Their inability to properly market 'Mars' leaves me with serious doubts about the network.
So with that I say with bitter sarcasm: Thanks a lot, CW. If you'd rather fill your timeslots with shows like 'Pussy Cat Dolls' (The search for the next singing dominatrix), I'm going to take a pass. There are better shows to watch and frankly, I'm not sure I'd want to invest any more time on the quality shows you might air in the future only to see them cancelled after a couple of seasons.
This poll is no longer available.
What to Watch (5/20 to 5/26)
'Desperate Housewives' (ABC) 9:00 pm
Getting Married Today (Season Finale!)– It's Gaby's wedding day. I don't think she'll go through with it. Also, this final episode of the season marks the return of Bree!
'Enoutrage' (HBO) 10:00 pm
The Prince's Bride (New!)– Eric and Vince find a financial backer for Medellin but because nothing ever comes easy when it has to do with this project, there's strings attached. Turtle gets a date with the hot girl from the auto-shop but her father comes along to chaperone.
'24' (Fox) 8:00 pm
4:00 am – 6:00 am- (Season Finale!) – Note that this week's episode starts at 8 instead of 9 and will run for two hours!
'Heroes' (NBC) 9:00 pm
How To Stop An Exploding Man - (New!) – The first season comes to an end. Will Peter or Sylar explode? Can't wait to find out!
'American Idol' (Fox) 8:00 pm
(New!) – Blake and Jordin perform and America will vote to determine which of these two will be the sixth American Idol.
'Veronica Mars' (CW) 8:00 pm
Weevils Wobble But They Don't Fall Down (Series Finale – part 1) – Great idea, putting the first part of the series finale against the season finale (part 1) of 'American Idol.' In this episode, a sex-tape featuring Veronica and Piz surfaces. Weevil hires Veronica to clear his name for a crime he didn't commit, once again.
'Veronica Mars' (CW) 9:00 pm
The Bitch Is Back (Series Finale – part 2) – Veronica investigates the origins of the sex tape and it turns out someone from her past might have been involved.
'American Idol' (FOX) 8:00 pm
(New!) – The top 12 return and someone is crowned the sixth American Idol.
"Lost" (ABC) 9:00 pm
Through The Looking Glass (season finale!) – The third season finale starts an hour earlier, overlapping with 'American Idol.' This episode will feature Jack flashbacks and follow the group as they try to contact Naomi's rescue ship.
'So You Think You Can Dance' (FOX) 8:00 pm
(Season Premiere!) – The third season starts up with hopeful-dancers auditioning in New York City.
'On The Lot' (FOX) 9:25 pm
(New!) – In the second round of auditions, the aspiring moviemakers are narrowed down from 50 to 18.
Painkiller Jane (Scifi) 10:00 pm
Pilot (rerun) – If you haven't had the chance to watch 'PKJ,' now's your chance to catch the very first episode.
Over The Hedge (HBO) 8:00 pm
Steve Carell, Bruce Willis and William Shatner lend their voices to this humorous animated film about a bunch of forest animals who invade the suburbs in search of food.
__________________________________________
Do you an idea for a column or just something to say? Scroll down and leave a comment!
Your Daily Blend of Entertainment News
Assistant Managing Editor
Kelly joined CinemaBlend as a freelance TV news writer in 2006 and went on to serve as the site's TV Editor before moving over to other roles on the site. At present, she's an Assistant Managing Editor who spends much of her time brainstorming and editing feature content on the site.