Cloudy With A Chance Of Meatballs May Return In This Form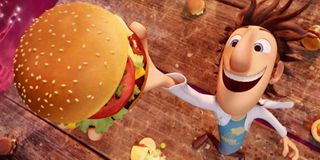 Cloudy With A Chance Of Meatballs has already gone from a beloved children's book to an animated movie franchise, and now it is being reworked for television. On Thursday, Sony Pictures Animation announced it was in the early stages of developing an animated comedy based on the popular film franchise, called Cloudy With A Chance Of Meatballs: The Series. Here are the details.
First, it's important to know that Cloudy With A Chance Of Meatballs: The Series will not be a sequel to either of the animated films. It won't be a straight-up reboot, either. Instead, it will follow film lead Flint Lockwood as a high school student. Sam Sparks, who also appears in the movies, will be the new girl in town. (Unsurprisingly, she also has ambitions to be a reporter.) Sony also mentions that plenty of other movie-related characters, including Flint's Dad Tim, Steve the Monkey, Manny the head of the school's audiovisual, pre-cop Earl, Brent and Mayor Shelbourne will all pop up in the animated series. It has yet to be determined whether Bill Hader, Andy Samberg, Anna Faris and others will return for the animated series.
My one big concern with Cloudy With A Chance Of Meatballs: The Series is that it will be set before the events in the first movie, which means there will be no giant food sources raining down from the sky. It also means that there will be no foodimals. Just look at how cute those suckers are.
Both concepts seem so integral to both of the movies. While I like Flint's weird inventions and Sam's spunk, I'm not sure how their pre-teen versions will spice up a town that has a booming economy based around sardines. You would think Sony must have some food-based concepts up its sleeve.
Despite my concerns, the company clearly feels the new show will be a hit. The franchise is going big with the new series, signing on for 26 episodes of Cloudy With A Chance Of Meatballs the series. Sony will distribute the new show in the U.S. and DHX media will distribute the series in foreign markets, although no network or streaming service has currently picked up the animated comedy.
Both Cloudy With A Chance Of Meatballs and Cloudy With A Chance Of Meatballs 2 were big box office successes for Sony. I have no doubt a TV series based on the franchise could find an audience with the right storyline, but we'll have to wait and see whether or not a prequel series has the right magic.
Amazing Race & Top Chef superfan with a pinch of Disney fairy dust thrown in. Theme park junkie. If you've created a rom-com I've probably watched it.
Your Daily Blend of Entertainment News
Thank you for signing up to CinemaBlend. You will receive a verification email shortly.
There was a problem. Please refresh the page and try again.