Comic-Con 2011: Glee Panel Live Blog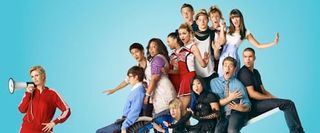 Hall H is packed today at Comic-Con and Glee is the first panel of the day. We're going to be given a sneak peek of Glee The 3D Concert Movie, after which Glee exec-producers Ryan Murphy and Brad Falchuk will answer questions. I'll be live blogging the Q&A portion of the panel, so stick around and hit refresh for updates!
The panel begins at 10:00 a.m. PST. Please stay tuned for updates, which I hope to begin posting once the 3D movie preview is done.
10:02 a.m. PST - Non-update update. It's past ten and they're still ushering people into the Hall. Given the monstrous line outside, that's not a surprise.
10:12 a.m. - Things finally appear to be getting started. Moderate Michael Ausiello is taking the stage to kick things off. He's commenting on Glee being big enough to be held in Hall H. "Hall H, people!" Introing the 3D clip...
10:25 - Footage from the 3D concert movie was great. We saw Heather Morris perform "Slave for You" on stage. She's an amazing dancer. Meanwhile, Darren Criss performed "Teenage Dream" with the Warblers. The footage also included a Gleek with aspergers who talked about her love of the show and how it's changed her life. There was also an adorable toddler fan dressed as a warbler lip-syncing to Teenage Dream. Die-hard Glee fans are likely to enjoy the 3D movie when it hits theaters in August.
10:27 - In addition to Falchuk, the panel includes Ian Brennan, Heather Morris, Darren Criss, Harry Shum Jr, Jenna Ushkowitz and Dot Jones. No Ryan Murphy.
10:28 - Falchuk says just because some of the people are graduating (Finn, Rachel, Kurt?), doesn't mean they're leaving the show. He won't say who is a senior and who isn't. Jenna (Tina) is a junior.
10:30 - Falchuk says Season 3 is split into two mini-seasons, with Sectionals topping off the first nine episodes. Shelby's coming back (Idina Menzel) in Episode 2. If there's a tribute episode, it will be in the second half of the season. "We really do want to spend time with the characters in the first nine episodes."
10:32 - Mercedes will have an episode coming soon. She has a new boyfriend. "We describe the relationship as sort of like the relationship between Cuba Gooding Jr. and his wife in Jerry McGuire." Falchuk says. He went on to say that he supports Mercedes and encourages her.
10:34 - Dot Jones (Coach Beiste) will be back. Ausiello asks about Tina and Artie. Audience consensus is that Tina and Artie should not get back together.
10:37 - Brad Falchuk says Kurt and Blane are "solid" in their relationship. Darren Criss talked about it a little too. The audience is going nuts for him.
10:39 - Darren Criss asked about going to Broadway. He's being vague on his answer and says he can't confirm anything. Time for audience questions.
10:40 - Darren asked about his solo album. He says he's not sure if his time will allow for more of that with Glee and a "hypothetical Broadway musical."
10:41 - Brad Falchuk says the story comes first, in response to whether they start with the story or the music when writing an episode.
10:45 - Talking about character shipping names. Bantana vs. Santitney. A lot of enthusiasm for Brittney and Santana's relationship.
10:47 - A fan is asking about a spin-off series with Kurt, Rachel and Blane. Falchuk says Fox gave them the opportunity to explore it but he thinks they're going to pass on the idea. They were considering it a possibility but it doesn't sound like it's going to happen. "It's hard to do this. It would be a lot," Falchuk said, in talking about making the show.
10:49 - A fan is thanking the panel for making it cool to be in show choir. Question about preferred Broadway roles. Jenna says she'd like to be Kim in Miss Saigon. Criss said Caberet. Dot says she'd like to be Ursula (The Little Mermaid?). Everyone laughs at that.
10:51 - Question for Darren - Asking what Disney song he'd like to perform. "I would be intimidated to sing a Disney song," Criss said. "I would want to sing... probably something from Aladdin, man."
10:52 - Question for the cast about what part of their characters do they see in themselves? Harry Shum answers, "I look like Mike Chang." His serious answer is that he likes to stand up for his friends and the dancing. Dot says she's "in some ways" like Coach Beiste. "As far as the mean side of her, I can be, but not so much." She can relate to some of the stuff she's been through in her life.
10:54 - Questioner asks the writers if they feel the writing has been affected by the popularity. They're talking about how great the stories are for Season 3, and how they didn't sit down to write the show, knowing it would be a phenomenon.
10:55 - Someone is asking if there will be a Star Kid crossover. "Star Kid" apparently has something to do with Darren Criss. Writers don't seem to know what that's about.
10:56 - Someone asking if Beiste will have a relationship. Falchuk saying they're interested in exploring parts of Beiste as a performer, which may include romance.
10:57 - Talking about Sue now. Falchuk says she's going to try to destroy Will and the glee club on a national level. She's running on a "No Arts" platform, politically. Ausiello asks for a good upcoming Sue zinger. Falchuk says there's one about a purple piano that Sue suggests that Liberace died on it. 11:00 - Last question is about Britney's lines. Falchuk says they kind of flutter on wings and that they just kind of know instantly what Britney would say in certain situations.
That's it! Panel over! Sounds like the writers are really aiming for character stories in Season 3, which is a good thing as that's something that sort of got back-burnered in Season 2.
Kelly joined CinemaBlend as a freelance TV news writer in 2006 and went on to serve as the site's TV Editor before moving over to other roles on the site. At present, she's an Assistant Managing Editor who spends much of her time brainstorming and editing feature content on the site.
Your Daily Blend of Entertainment News
Thank you for signing up to CinemaBlend. You will receive a verification email shortly.
There was a problem. Please refresh the page and try again.