Comic-Con 2013: Regular Show Panel Recap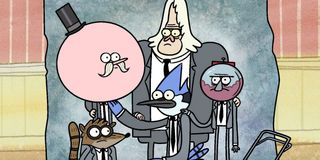 The panel began with a warning about playing with the complimentary beach balls before they threw to an amazing, action packed Regular Show sizzle reel. Then writer Matt Price came out to host the event and you can see where the humor comes from. He then brings out the rest of the panel, first introducing the recently Emmy nominated storyboard artists Toby Jones and Calvin Wong. Next up was their primary song writer and supervising director Sean Szeles as well as fellow writer Mike Roth. Time for the talent. First up, is Sam Martin followed by Bill Salyers and, of course, creator and voice of Mordecai JG Quintel.
Price begins the discussion talking about the recent nominations as well as other accolades like making it to episode 100 and releases the new, jam packed Season 4 DVD. When they were making the home video release, Quintel remembers asking if the disks were full. Other highlights from S4 including making the half-hour specials. And of course, the kiss between Mordecia and Margaret. Price adds that meeting Margaret's dad was one of the best moments, and how fans were angry that he was a man. Just a dude, no big deal. Nothing wrong with man on bird love.
Price steers the convo to the music on the show and asks if Sean brought his guitar so he and Sam could sing a love song for the crowd. Anyone sitting next to their guy or girl. It's a very food centric love song. Nothing sexier than condiment metaphors and fighting. You be my lady and Ill be your muscle man. The voices of the lovers then got a little frisky while the camera held on Price. Then, another sneak peek with a teaser for hte rest of S4. It looks great.
Next season, two big holiday specials. Halloween, pretty scary and funny. Laughing nightmares. And also a Thanksgiving special. You heard of that holiday? It needed to be tackled. Oh. And here's a teaser from said Halloween show. Before getting to guest Qs, Price wanted to mention the great guest stars on the past season like Michael Dorne as Thomas (Mike Roth was a big Star Trek fan), Terry Crews in coming up and, well, Matt Price. Zingo!
What about the references that go over the kids heads? Salyers said that they want to make it for them and also the parents that are watching with their children. Any talk of a Regular Show movie. Thy'd love to if people want to see it. It would be hard, so if there comes a time expect it to be awesome. Thomas meant to be a background character? See more of him but since he's an intern, he should stay to the side. Unseen and unheard like an intern should be. Oh, but there is a Thomas movie on the way. Jokes!
Could there be an alternate universe? Quintel says it's already so crazy that it's basically like that anyway. Will there ever be alternate versions of the characters? Maybe. Any episodes the networks were weary about? Many. LIke Muscle Man doing a Curly shuffle with an uzi. A lot of stuff gets cut. The shows usually come out at 13 or more minutes long so there's always a tough process to pare down to 11 minutes. If you could play another character, who would you be? Salyers would like to be Muscle Man and he gives us a taste of his Rigby version. Martin would be Margaret.
Time travel eps cause narrative issues, what characters are we currently tracking? The impressively convoluted question was asked by a five year old. Seriously. It was pretty impressive. And we're following the successful versions of the characters and the side ones, live in some other town now. Time travel is hard, they just want to make it funny. Will we meet Muscle Man's mom? They hope so. She's a legend. Martin gives us a taste in character. Will there be any females employees at the park? Started like a boys club but it has developed into having more and more female characters. But Quintel can't reveal if they'll be at the park.
Martin gives us 'go back to your seats or you're fired' as Benson. Where did Rigby come from? Didn't want Benson to be the buddy so he brought out an old sketch. Also liked having the short and tall pairing of Mord and Rigs. Will Rigby find love? Are her and Aileen meant for each other? Salyers then asks her out in the voice. He's a little awkward. There's also a Regular Show video game coming out for Nintendo 3DS. And they also have a clip from the game., Mordecai and Rigby in 8-Bit Land. It looks great, like old-school Mario Bros.
Back to the Qs, will we see how Mordecai and Rigby meet? Quintel is cagey but does reveal that we'll see younger versions of them. And who wants to see more Don? Everybody! Definitely more family stuff on the way. Can Mordecai fly? Nope. Not as aerodynamic as he looks. Can we expect an album of Regular Show songs? Quintel hopes so, Finally, will there be an Adventure Time crossover. They sneakily didn't answer. Be sure to watch the rest of S4 on The Cartoon Network.
Your Daily Blend of Entertainment News
Thank you for signing up to CinemaBlend. You will receive a verification email shortly.
There was a problem. Please refresh the page and try again.