Community, Parks & Rec, Blue Bloods Stars Head To GSN's The Pyramid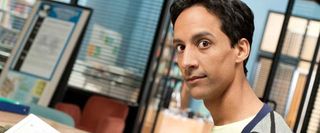 I'm sure I'm not the only kid of the 90s who grew up watching reruns of 70s game shows, constantly in the dark about who these so-called "celebrities" were. The appeal of shows like The $10,000 Pyramid were always kind of lost on me, since the contestants seemed so excited to be playing alongside "stars" who I'd never hear of, and honestly never heard about again. Now the kids of the 2030's will get a chance to replicate that experience, as The Pyramid is coming to the Game Show Network this fall, and bringing with it a new roster of TV stars who may or may not be known at all in 20 years.
GSN released the roster of celebrities for the fall season, and unsurprisingly, it features a lot of people from currently running TV shows who are likely eager to show up to promote their show's season premiere. The first episode of The Pyramid airs Monday, September 3-- that's Labor Day, actually-- and Community stars Yvette Nicole Brown and Danny Pudi will make appearances in the premiere week. Who else should you expect on your screen? The lineup is below:
Yvette Nicole Brown (Community) Kate Flannery (The Office)
Samantha Harris (Host, Stars Earn Stripes and Dancing with the Stars)
Dot Marie Jones (Glee)
Wallace Langham (CSI)
Joshua Malina (Scandal)
Lamorne Morris (New Girl)
Oscar Nunez (The Office)
Jim O'Heir (Parks and Recreation)
Melissa Peterman (Baby Daddy)
Megyn Price (Rules of Engagement)
Danny Pudi (Community)
Jai Rodriguez (Malibu Country and Queer Eye for the Straight Guy)
Aida Turturro (The Sopranos)
Nick Turturro (Blue Bloods)
Chandra Wilson (Grey's Anatomy)
I don't think it's unfair to say none of these are exactly the main draws of the shows-- the days of big, huge stars appearing on cable game shows have yet to arrive-- but still, fans of Parks & Recreation will probably be psyched to see poor beleaguered Jerry help someone win thousands, and Danny Pudi is always surprisingly affable when he's out of character as Abed. Plus, the appeal of game shows at its core really has nothing to do with famous people-- we all just like seeing people win stuff.
Staff Writer at CinemaBlend